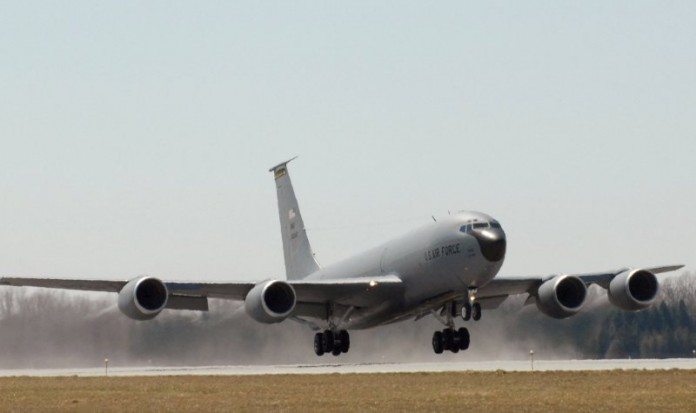 The C/KC-135 Stratotanker is in and out of Southwest Asia, but these days it supports more than just air refueling operations.
As the KC-135 performs more aeromedical evacuation missions, officials said they realized the fleet wasn't properly equipped to care for patients due to inadequate lighting.
That recently changed as members of the Oklahoma City Air Logistics Center Aerospace Sustainment Directorate C/KC-135 System Program Office devised a plan to add temporary lighting to the aircraft and permanently increase the number of power outlets. When the lights are on, the intensity of the brightness is increased 50 times and stretches throughout the aircraft's cabin. Recently, three new power outlets were added to the aircraft, increasing patient capacity by 66 percent.
"The KC-135 has proven its flexibility over the last 50 years, and I'm certain it will handle any future mission the warfighter throws at it," said Col. Robert Torick, the C/KC-135 System Program manager. "The weapon system continues to deliver for the warfighter, and it's a darn good at it."
Prior to the temporary addition, 0.3 foot-candles of light illuminated from the internal cargo area of the aircraft. One foot-candle is equivalent to the brightness of a standard candle light within one foot of the flame, said 2nd Lt. Nicholas Gilbert, an engineer in the C/KC-135 System Program Office.
When crews previously performed aeromedical evacuation missions, they used flashlights, head lamps, or anything they could think of for additional lighting, he said. However, the light had to be filtered white. Yellow lights could alter the color of bodily fluids and organs, which might lead to misdiagnoses.
In June 2009, the system program office officials addressed the issue. Thirteen months later after extensive research, testing and prototyping, they found and implemented a solution, Lieutenant Gilbert said. The modification provides 15 foot-candle white light enabling doctors and medical technicians to perform their duties more efficiently and effectively. The lights can be adjusted — brightened or dimmed — depending on the medical team's needs.
Because the lights were only crucial during aeromedical evacuation flights, officials wanted to ensure the lights could be easily removed when not needed and didn't affect the aircraft's structure. The program office team is working with the warfighter on a permanent interior lighting solution.
Before that can happen, Colonel Torick said more testing and pricing needs to be done.
"Aeromedical evacuations are playing a bigger and bigger role in the KC-135 fleet," the colonel said. "Anytime you move wounded warriors out of the (area of responsibility) and provide them urgent critical medical care, it's very important."