UDAIRI RANGE, Kuwait: The rockets' red glare, the rockets streaming in air lit up the night sky over a sea of sand in Kuwait.
The U.S. forces supporting Task Force Spartan and Kuwait Land Forces worked shoulder-to-shoulder to test their capabilities firing their respective truck-based, artillery rocket launchers.
"It's important what we're doing here because we're working together," said Sgt. Dexter Jones, a fire control direction chief and a liaison officer for the 115th Field Artillery Brigade during the combined exercise.
The Kuwaitis invited their American counterparts to participate in Dasman 1 as a precursor to Dasman Shield in late February.
Kuwait Land Force Maj. Mohammad B. Alafasi, a liaison fire control officer for the Kuwait and U.S. forces, agreed that the two forces working together would benefit the troops of both nations.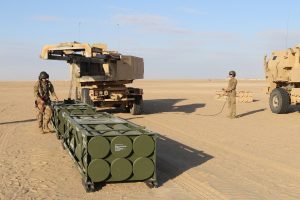 It's important because the two forces can learn from one another and, God forbid, in case something happens there would be a combined operation against a common enemy, Alfasi said through an interpreter.
Over five days, more than 200 troops with the two nations learned how each military works at Udairi Range along Kuwait's northwestern border.
This interaction will help deter regional aggression.
"We're increasing the interoperability, increasing the capabilities between us and Kuwait, and maximizing our readiness between our countries," said Jones from Frederick, Colorado. "This exercise is a great showcase in our capabilities and what we can do together."
The Task Force Spartan joint fire coordinator agreed.
"If we have to be in a fight tonight scenario, our biggest effort is to protect in an event of an invasion," said 1st Lt. Jonathon Stinnett, with the 38th Infantry Division and a fires coordinator during the exercise. "So we're basically joining artillery and learning how to combine fires, along with our Air Force fires as well."
Not only did the countries combine to become a lethal force against a common enemy, but they also developed a bond with each other.
"As we call them out here, they're our brothers, they're our artillery brothers," said Stinnett from Brownsburg, Indiana. "They treat us like family, and we do the same for them."