FORT MEADE: Anyone wanting to stay abreast of the initiatives set through the Army's budget can now download a document which explains many of the Army's sought-after changes.
In February, the force released its "Fiscal Year 2019-2021 Accomplishments and Investment Plan" shortly after announcement of the Army's FY21 budget request. The FY19-21 plan outlines how the Army is targeting its top priorities of readiness, modernization and reform, all while emphasizing the significance of people — "the Army's greatest strength."
"We treat taxpayers' dollars like we treat our ammunition — every bullet counts and is aimed against a target," said Secretary of the Army Ryan D. McCarthy. "The Army remains steadfast in its priorities and have aligned our investments and budget against the same. People are the foundation across all of our efforts."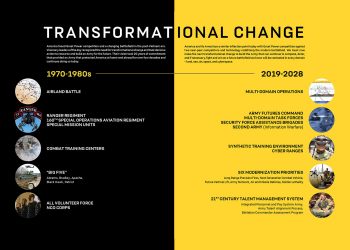 The force is currently in an era of "great power competition," according to the FY19-21 plan. Near-peer competitors now possess cutting-edge technology that redefines the battlefield. Therefore, transformational change is necessary to compete and deter — or fight and win — across all domains: land, sea, air, space, and cyberspace.
"Another element of competition and deterrence is having a highly lethal, combat-credible force," McCarthy said. "This is why we established six modernization investment priorities and restructured the Army enterprise with the establishment of Army Futures Command."
The Army has found ways to accelerate the decision-making and acquisition processes by bringing the Army's modernization enterprise and critical stakeholders together under the purview of AFC, McCarthy said.
"The complexity of the (future) battlefield … requires that we transform our 45-year-old fleet into new equipment portfolios in our formations today, so that we stay relevant, retain overmatch, and allow us to win decisively in the next war," he said.
"Large-scale modernization takes time and patience," McCarthy added "Prototypes that began development in FY18-19 are maturing, with the real capability landing in FY21-22. In this fiscal year, there will be an increase in test shots, capability demonstrations, and validation of prototypes."
Along with the Army's readiness and modernization efforts, the plan outlines a need to manage talent throughout the force.
Under the Army People Strategy, leaders aim to acquire, develop, employ, and retain a diverse Soldier and civilian workforce. The fiscal plan highlights the Army's Talent Alignment Process, or ATAP, which incorporates improved ways to select leaders through the Battalion Commander Assessment Process, or a means to accelerate the careers of high-quality Soldiers through merit-based promotions.
Additionally, the plan underlines some of the Army's quality of life improvements for FY20-21, targeting changes to housing and barracks, health care, child care, spousal employment, and permanent-change-of-station initiatives.
"People are the foundation of all of our priorities and all that we do," McCarthy said. "The Army has — and always will be — a people organization."