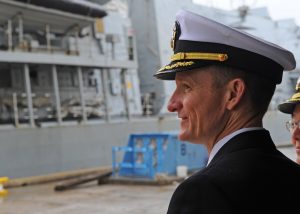 CAPT. Brett Crozier, the fired Captain of the USS Theodore Roosevelt aircraft carrier, has been temporarily assigned as Special Assistant to U.S. Pacific Fleet Naval Air Forces' Chief of Staff at Naval Air Station (NAS) North Island, Coronado, San Diego as of May 4th, 2020.
The Captain had recovered from COVID-19 at the start of May after spending time in quarantine on the island of Guam. He was relieved of command as the carrier's Captain on April 2nd at the behest of the previous Acting Secretary of the Navy (SecNav), Thomas Modly, after a 4-page unclassified memo he sent to fellow Pacific Fleet officers was leaked to the San Francisco Chronicle newspaper. Modly was forced to resign on April 7th, after word of his inappropriate remarks to the carrier crew was leaked to social media.
A Navy investigation was called by Secretary of Defense (SecDef) Mark Esper to look into the "command climate" surrounding CAPT. Crozier's decision in sending the email, which was later expanded by current Acting SecNav James McPherson to include a deeper finding of the circumstances behind the Captain's abrupt dismissal. Navy top brass have recommended that CAPT. Crozier be reinstated in his former role as the USS Theodore Roosevelt's Captain, however no decision can be reached until the findings are submitted to Chief of Naval Operations (CNO) ADM. Mike Gilday on May 27th.
CAPT. Crozier reunited with his spouse on Monday night upon his arrival in San Diego, and will be working from home under precautionary measures implemented by the Department of Defense in curbing the spread of the coronavirus. The aircraft carrier's new Captain was previous Commanding Officer CAPT. Carlos Sardiello, who handed command of the vessel over to CAPT. Crozier just last November. CAPT. Sardiello said in a news interview that "We've taken 45 days from that business (of patrolling) and it's a dangerous business, so we have a lot of training to complete" and that he will not wait for all of the carrier's Sailors to return onboard before leaving port. More than 50% of the crew have returned to the carrier in cohorts last week after passing a battery of tests to protect fleet health, which includes testing negative for COVID-19 twice in a row. All spaces on the carrier have been thoroughly disinfected by the cleaning task force who remained onboard during the disembarkation at Naval Base Guam.
The destroyer USS Kidd reported close to 100 confirmed COVID-19 cases as of May 1st. However, Navy leadership had picked up on lessons from the USS Theodore Roosevelt's situation, reacting swiftly to evacuate and isolated Sailors the Arleigh Burke-class destroyer. The first Sailor showing influenza-like symptoms was airlifted off the ship to a San Antonio hospital on April 22nd. The destroyer is currently docked in San Diego, with its crew undergoing isolation in Naval Base housing.
ADM. Gilday is currently undergoing self-quarantine after he reportedly came into contact with a family member testing positive for COVID-19. He was absent from a White House meeting with President Donald Trump and other Service Chiefs.