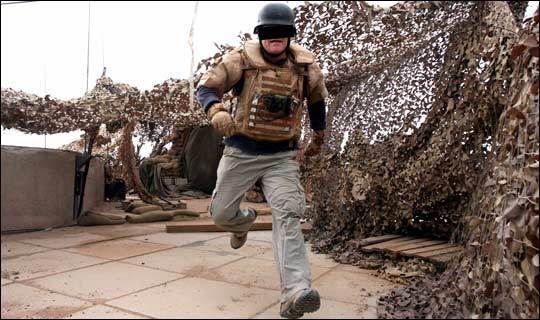 Britain's elite SAS is facing a recruitment crisis because the army is so overstretched that soldiers do not have time to prepare for the gruelling selection process, a senior officer warned on Monday.
Brigadier Richard Dennis said that the high "operational tempo" of the armed forces and the "unrelentingly demanding" operations in Afghanistan meant that servicemen were being discouraged from joining the special forces unit.
In a letter leaked to the Daily Telegraph newspaper, Dennis, head of infantry, said the pressures affecting the forces were combining to "mitigate against Special Forces recruitment."
The Special Air Service (SAS), one of the world's most respected special forces units, is credited with playing a leading role in Afghanistan, where British troops are part of an international coalition fighting the Taliban.
British forces are also playing a major role in the Libya conflict.
Dennis's letter is the latest protest from British military chiefs, who are fighting to limit cuts to the armed forces introduced as part of efforts by the coalition government to slash a record public deficit.
In his letter to General Peter Wall, head of the army, Dennis expressed deep concerns about "the challenge of fully manning the SAS."
He quoted the commanding officer of 22 Special Air Service Regiment, who he said had stressed the need for "more youthful, quality volunteers."
"I am content, notwithstanding the need to avoid any complacency, that the infantry community delivers sufficient officer and soldier volunteers to Selection," wrote Dennis.
"I am less confident about how we guarantee better depth of quality to increase selection pass rates.
"Indeed, for any measure to be successful you might consider that Army action is essential if we are to increase selection success and the enduring quality of our SF [Special Forces] community."
The SAS selection process is one of the toughest in the world and involves candidates running over mountains carrying a heavy load and spending weeks in the jungle.
All members of the British special forces are drawn from the regular army.