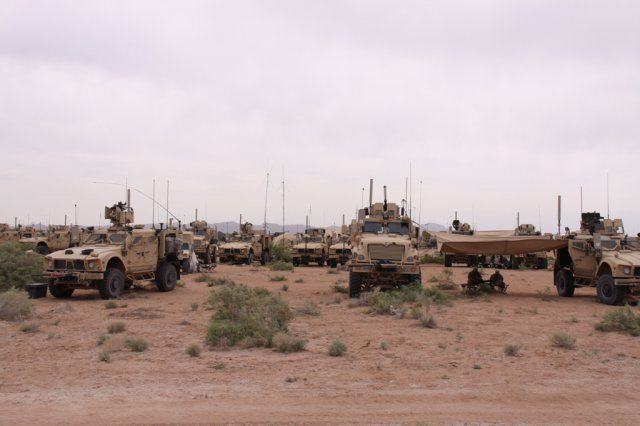 As it looks ahead to more Network Integration Evaluations, the Army hosted an industry day, July 19, to discuss opportunities to collaborate on the future tactical communications network.
The goal of the event was to keep the industrial base informed of upcoming requirements to support Network Integration Evaluation, or NIE, 13.2 to be held in May 2013, and to provide updates on Capability Set Management and the Army's Agile Process for acquisition, which the NIE supports.
Attended by more approximately 200 industry partners, the event outlined NIE participation opportunities with a focus on NIE 13.2, the fifth iteration in a series of semi-annual field exercises designed to further integrate and rapidly advance the Army's tactical network. Private companies play a critical role in the Agile Process by bringing forward emerging technologies for evaluation at the NIE to determine whether they meet the Army's defined capability gaps.
Army leaders described various mechanisms for purchasing systems that show merit at future NIEs, including issuing a Request for Proposals solicitation that will result in an NIE support contract award with an option for production quantities after the NIE is completed. This will allow the Army to execute an option to procure production material and field it to Soldiers more quickly than current acquisition methods allow.
"We are trying to speed the process up," said Brig. Gen. Daniel Hughes, director of Army System of Systems Integration, noting that traditional procurement cycles can take up to 10 years to develop a product and field it to the force.
"If we did that with cell phone technology, we'd be fielding the Motorola flip phone right now," Hughes said.
The industry day coincided with the release of the Army's Sources Sought notice to identify emerging capabilities to be evaluated against a set of entrance criteria for an opportunity to participate in NIE 13.2. The Sources Sought seeks solutions with a narrow focus on specific identified gaps in the current and evolving networked equipment solution set, intended to meet operational needs.
"The gaps that are put out are very important," said Jennifer Zbozny, chief engineer for the Army Program Executive Office for Command, Control and Communications-Tactical. "This isn't a science experiment — we're evaluating them to potentially field."
The identified gaps are: commander's applications for mobile and handheld platform, enhanced command post collaboration and visualization, company information architecture, network operations visualized in the command post, aerial layer network — air ground integration, integrated employment of LandWarNet installation and training resources, Warfighter Information Network-Tactical interoperable satellite communications and ground to ground capability on heavy brigade combat team maneuver platforms.
Interest from industry in NIE participation continues to grow. While 43 companies were interested in participating in NIE 12.1 in fall 2011, 105 companies sought to participate in NIE 12.2 in spring 2012, and 146 companies are seeking to participate in NIE 13.1 this fall.
To help facilitate industry success, Army leaders also shared lessons-learned from previous NIE cycles, such as bringing precise requirements for training and understanding how a certain technology will fit into the integrated brigade combat team formation that conducts the events at Fort Bliss, Texas, and White Sands Missile Range, N.M.
"We have to have a good idea of how many Soldiers at what echelons should evaluate (a solution)," said Brig. Gen. Randal Dragon, commander of the Brigade Modernization Command. "How is this going to work, how will it meet the gap we've got, and how will it work in the operational scenario?"
Industry members also toured Aberdeen Proving Ground laboratories that support industry candidate assessments, integration and validation prior to the NIE. While synchronized fielding efforts are underway for Capability Set 13, the first integrated set of advanced tactical communications equipment that will be delivered to brigade combat teams starting this fall, the Army is already laying the groundwork in the laboratories for Capability Set 14. Upgrades with Capability Set 14 include integrating the network on heavy vehicle platforms and greater convergence of operations and intelligence applications.
The ongoing risk reduction in Aberdeen Proving Ground laboratories is critical to the successful execution of the NIEs, which leverage 3,800 Soldiers conducting realistic operations in order to measure network performance. By replicating the NIE network in the lab environment, engineers can resolve integration issues before systems get to the field — reducing test costs and allowing Soldiers to focus on the fight instead of the technology behind it.