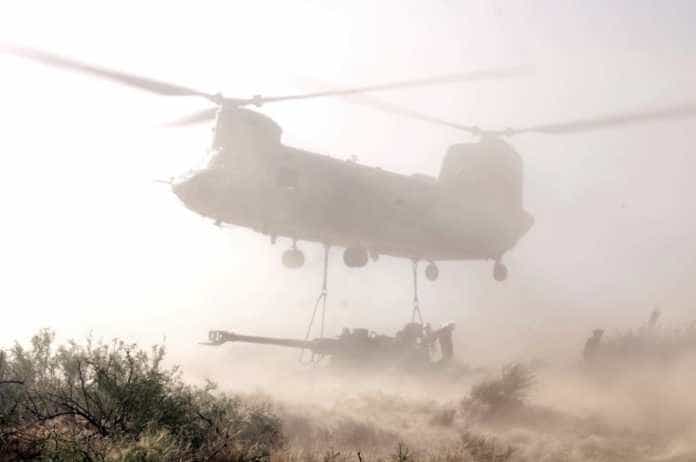 ORO GRANDE RANGE, N.M.: Power. Power and lethality are what artillery crewmen assigned to M777 howitzers feel every time they pull the cord to send a round up to 15 miles downrange. Every outgoing shot feels like a shockwave, and the boom is deafening.
Nerve.
Nerve and precision are needed when standing beneath the spinning blades of a Chinook helicopter while getting ready to attach, or sling load, an equipment asset to the underside of the twin-rotor aircraft as it kicks up an immense dust cloud.
Soldiers from 2nd Battalion, 3rd Artillery Regiment, Division Artillery, 1st Armored Division, loaded their artillery onto Chinooks from the 1st Armored Division's Combat Aviation Brigade and conducted live-fire two gun raid exercises and gunline qualifications Sept. 19-22 at Oro Grande Range Complex, New Mexico.
"When you're in combat, you're taking these howitzers and you might not be able to move them with vehicles, so most likely air is going to be your best bet," said 1st Lt. Jillian Jones, the pickup zone controller of the exercise and executive officer of F Forward Support Company, 2nd Battalion, 3rd Artillery Regiment.
When aviation and artillery come together, it makes for a combination that amplifies the capabilities of modern artillery.
"You're going to shoot however many rounds you need to, and then you're going to sling load and put them somewhere else," Jones said. "It's fast, it's quick, it's efficient. It's the way to go in combat."
The soldiers prepared for the exercise hand-in-hand with personnel from the Air Assault School on Fort Bliss to ensure the training's safety and efficiency, said Spc. Cory Reeser, a gunner with B Battery, 2nd Battalion, 3rd Artillery Regiment.
The training exercise was extensive to simulate the challenge the soldiers might face in a forward environment. The gun crews would sling load their howitzer, fly to a firing point several miles away, unhook the gun and be ready to fire as soon as possible.
"We did a rapid emplacement," said Reeser. "Then we shot, rigged up the howitzer again to the UH-64 Chinook, came back and did another rapid emplacement. Then we did our special munitions shoot."
As the pickup zone controller, Jones was up close and personal with the helicopters and those who fly them throughout the exercise. Through marking the grid and controlling the action on the ground, she acted as the liason between the artillerymen on the ground and the pilots in the sky to keep every pickup running at a smooth pace.
"We're doing it for time. We're seeing how we are tactically, seeing how well our training is, and seeing how we can improve in the future with our training," Jones said.
That training proved invaluable to some of the soldiers and crews from 2nd Battalion, 3rd Artillery Regiment. As a gunner, Reeser is responsible for bringing the sights of the howitzer on to a target using all analog equipment with the help of his senior NCO and lieutenant. He took the time to teach some newer soldiers the basics of his position.
"Our section is pretty brand new: a bunch of E-2s and below," Reeser said. "This is their first field problem, and their first chance to shoot actual field artillery. They're busting their humps and getting it done."
Jones was air assault qualified in March, and recognizes the exercise as an opportunity to put her skills to the test and give soldiers a unique training experience.
"This is actually a really cool opportunity for these soldiers who have never seen it before and never trained on it to get trained on it and bring it to other units," Jones said.
For Jones, the exercise was an experience she won't soon forget.
"I think that's the coolest thing in the world," Jones said. "A Chinook picking up a several thousand pound howitzer: that's amazing!"
For Reeser, it was just another week dug in on the gunline.
"I love artillery," Reeser said," and [being] given the chance to come out here and do all this cool stuff is pretty awesome. And there's the big explosions, obviously."