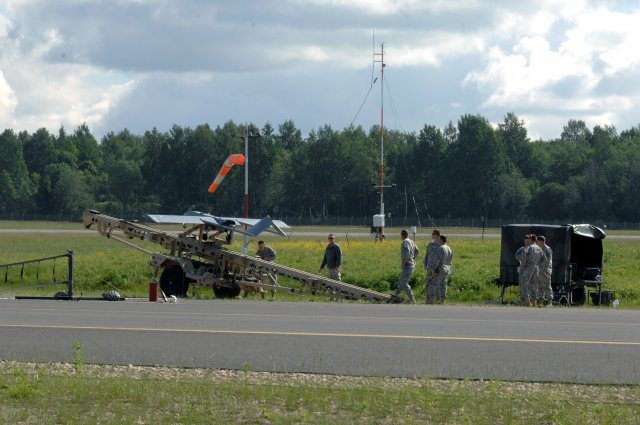 An unmanned aerial surveillance platoon from the Michigan National Guard launched their 15th RQ-7B Shadow Unmanned Aircraft System into the Latvian skies here, Saturday.
Latvian Armed Forces, providing aviation tower and runway support, assisted with this latest flight of Michigan Army National Guard Unmanned Aerial Surveillance platoon, B Company, Brigade Special Troops Battalion, 37th Infantry Brigade Combat Team, Military Intelligence Company.
"It felt really good to get an aircraft up after our move back from Vainode where we flew the Shadow to support the Flaming Sword Exercise with NATO forces. After we returned to Lielvarde, the Soldiers were eager to get the equipment set up, to test the system and to launch another Shadow," said Chief Warrant Officer 3 Scott Sims.
Later in the afternoon, the platoon launched yet another aircraft to train additional personnel, to test the equipment after the recent convoy and to further develop the interoperability between the Latvian military and the Michigan National Guard.
"The flight crews are getting into a good working relationship with one another and with the Latvians," explained Warrant Officer 2 Jimmy Huck. "Not only are we supporting training exercises, we are also certifying our flight crews, and maintaining our equipment."
The unmanned aerial surveillance platoon will continue to fly through the end of June, in Latvia. The next exercise they are scheduled to support is the multi-national Sabre Strike, which begins Thursday.
The Michigan National Guard and Latvian military have a twenty-two year partnership, in which the state and nation exchange techniques, tactics and procedures while members of each military train collaboratively.