U.S. pilots from the 555th and 510th Fighter Squadrons based out of Aviano Air Base, Italy, have been given a rare opportunity to train and share experiences with Bulgarian air force MiG-21 and MiG-29 pilots during their deployment here in support of Thracian Star 2012.
Since the start of the training mission on April 18, Bulgarian and American pilots have been flying together and working toward the goal of the exercise: to strengthen partnerships, increase interoperability between NATO allies and maintain a standard of excellence.
Throughout the month-long bilateral training exercise, Aviano F-16 Fighting Falcon pilots will spend more than 60 hours per week flying close air support, basic fighter and air combat maneuvers, tactical intercepts, defensive counter air and large force missions with Bulgarian MiG-21 and MiG-29 pilots.
"We are performing the same mission sets we do at home station, but we are integrating the Bulgarian pilots into the training," said Capt. Bryan Faughn, 555th FS F-16 pilot. "It gives us an opportunity to see how another country's air force works. They are a professional air force just like we are and they take pride in what they do. We are gaining experience while working with an international partner – it's a unique opportunity."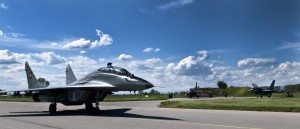 To gain better insight into both the tactics of the pilots and the capabilities of the different aircraft, pilots have gone on ride-along flights in the other country's jets.
Capt. Kirby Sanford, 555th FS F-16 pilot, was the first American pilot to get the opportunity to ride in a MiG.
"It was truly an awesome, once-in-a-lifetime experience," Sanford said about his flight. "It really highlighted the advantages of both aircraft and showcased the mindset, skills and techniques of the Bulgarians."
"Though the MiG is an older aircraft, it is still a very capable aircraft," he continued. "It just goes to show that even an older aircraft can be a formidable adversary with the right pilot."
Bulgarian air force Capt. Petar Milkov, was the first MiG-29 pilot to fly in an F-16 during Thracian Star 2012. The aircraft was piloted by Col. David Walker, 31st Operations Group and Thracian Star detachment commander.
"I was very impressed by the cockpit ergonomics, ease of flight and mission complexity," said Milkov. "This bilateral training with my American colleagues is a great chance to extend our partnership in a professional, cultural and personal manner. I also hope to enrich my personal experience and make new contacts."
While the language barrier could have made it difficult for Bulgarian and American pilots to find common ground, Sanford says they all have one thing in common that makes it easy to relate to one another: a love of flying.
"We've all wanted to be fighter pilots since we were young," he said. "That's a good basis to start from. We already have something in common that each of us can relate to that has brought forth a mutual respect between us."