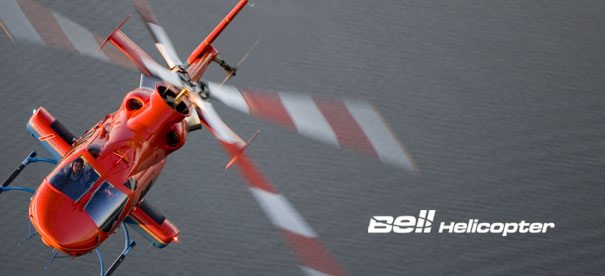 Bell Helicopter will have a strong presence at the 2012 China International Aviation & Aerospace Exhibition (Airshow China) as it continues to enhance its position in the growing Chinese aviation marketplace. Airshow China will take place in Zhuhai, Guangdong, China Nov. 13-18, 2012.
"China is facing an unprecedented demand for training, support and products as it moves to expand its aviation infrastructure," said John L. Garrison, president and CEO of Bell Helicopter. "According to recent forecasts, there is a projected need for as many as 2,000 helicopters in the coming decade, which will require thousands of trained professionals to fly and maintain these aircraft to standards. There is not only an opportunity to help create these jobs, but also ensure China has access to the best operational and technical training possible."
The Bell 429 and Bell 407GX have generated a great deal of interest throughout the world during their demonstration tours. The new Bell 407GX and Bell 429 will both be on display in corporate configuration at the trade exhibition at Airshow China. Bell Helicopter will also perform a limited number of demonstration flights on the Bell 429. Bell Helicopter aims to further amplify awareness of its industry-leading products and top ranked customer service and support at Airshow China.
"We are excited to be a part of Airshow China and highlight the commitments and investment we are making to position ourselves to serve this expanding market," said Garrison. "We are not only creating products that can handle the diverse range of terrain, climates and flying conditions across the region, but also making sure we can help keep China flying for decades to come."
The Bell Helicopter 429 is one of the most advanced light twin IFR (Instrument Flight Rules) helicopters ever developed. The 429 has set the standard for light twins, delivering exceptional speed, range, hover performance and enhanced safety margins. The 429 boasts a spacious cabin with 204ft3 (5.78m3) of usable volume, optional rear clam-shell doors and seating for 7 passengers and 1 crew.
Built on the success of the Bell 407, the 407GX is the only helicopter equipped with the innovative Garmin G1000H integrated glass flight deck, making it the most advanced light, single-engine rotorcraft on the market. The Garmin G1000H enhances mission awareness with HTAWS, TIS, moving map display and Garmin's Helicopter Synthetic Vision Technology (HSV).
Bell Helicopter, a wholly owned subsidiary of Textron Inc., is an industry-leading producer of commercial and military, manned and unmanned vertical-lift aircraft and the pioneer of the revolutionary tiltrotor aircraft. Globally recognized for world-class customer service, innovation and superior quality, Bell's global workforce serves customers flying Bell aircraft in more than 120 countries.