PABRADE, Lithuania: Soldiers with 1st Battalion, 9th U.S. Cavalry Regiment from Fort Hood, Texas, working side by side with multinational and allied forces, concluded their Combined Arms Live Fire Exercise training Feb 13, 2020.
Dutch artillery, Croatian mortar, Lithuanian and Norwegian fire support and the Baltic Air Police were some of the major assets involved in the execution of this enormous military exercise.
"A successful CALFEX is when my company commander walks out of here with a standard operating procedure and every single one of my leaders, whether it's a tank commander, a Bradley commander, a squad leader, a team leader…They walk out of here understanding their SOP's, having codified the lessons that they've learned throughout the entire train-up," said Lt. Col. Stephen Johnson, commander of the 1-9 CAV.
This large scale combined exercise involved assets from across the entire battlefield spectrum operating in a seamless, synchronous fashion.
Mortar teams working cooperatively were no exception.
"The goal for mortars here is to enable the maneuver elements in the company CALFEX to be able to get onto their objectives with ease," said 1st Lt. Alexander Shuler, a 1-9 CAV mortar platoon leader. "The thing that's really cool about working with the European nations, including Croatia, is that they're so used to working with other nations. A large part of us coming here to Europe is building upon that interoperability."
Indeed, Croatian Soldiers were an essential component of the mortar exercises as they worked closely with 1-9 CAV Soldiers throughout the CALFEX.
"The non-commissioned officers that we work closely with were really helpful," said 2nd Lt. Ante Validzic, with the 3rd mechanized infantry of the Croatian Land Forces. "They assisted us with everything we needed. If we combine our strengths, and work on our weaknesses, we can be strong together."
Training in Lithuania offered the Soldiers many tactical benefits that are not as readily available back in the United States.
"One of the great things about the 1-9 being up here in Lithuania is that they have the training facilities right here at their doorstep," said Brigade Command Sgt. Maj. Alexander Yazzie. "During this exercise, they had the fuelers come, they brought in ammo, they executed a Logistics Resupply Point (LRP) after contact. They were able to not only incorporate the fire maneuver, the shoot – move – communicate portion, but they incorporated the sustainment portion as well which was great because that's the first time I've seen that done in a CALFEX."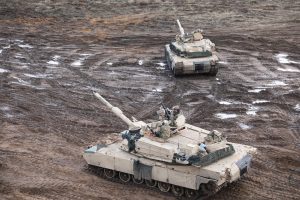 Command Sgt. Maj. Christopher Carey, the battalion command sergeant major was equally impressed with his Soldiers' ability to engage and take down potential enemy opposition.
"The one thing that really stood out to me was the violent execution of Battle Drill Six (room clearing exercise) by our infantry. There's a lot of training that leads up going into that live fire drill," said Carey. "They've trained for several weeks in preparation for this, and again the violence of action was very impressive. We're here to train and we're here to deter our adversaries. We don't have any distractors, that's our focus here."
The CALFEX is an enormous undertaking in scale and scope. This exercise allows leadership to assess and increase the military readiness and lethality of all the joint participants. Combining forces on such an enormous scale showcases our interoperability, and promotes regional stability, thereby enhancing relationships with our allies.
"We actually got to shoot gunnery with the Germans and the Norwegians, just being able to interact with them – I actually got to grade them, I got to VCE (Vehicle Crew Evaluator) them through their gunnery," said Staff Sgt. John Waite, an M1A2 B Co., 3rd platoon tank commander. "They were phenomenal. Their platforms and tank crews were amazing. They're always just thirsting for knowledge, the same as us. It's been one of the most amazing experiences during my time in the army."
The CALFEX is a very fast paced, multi faceted, strategic exercise. The ability of Soldiers to adapt and adjust to a fluid, ever changing battlefield environment is key to their success.
Of course, everything doesn't always go as planned.
"A Platoon leader's track (U.S. Bradley Fighting Vehicle) went down, just cut off on him. He worked through it, and what was great is the battalion commander let him work through it, he didn't give him the answer," said Yazzie. "So when a platoon sergeant's vehicle goes down, you have to jump track. Ultimately, he worked through it, he did really well and continued on with the mission."
Countless hours of training, endless logistics and the Soldiers' collective fighting spirit make for a very formidable fighting force that continues to protect the freedoms and independence of all within the European theater.
"This was just a world class amazing exercise, and I'm really proud of the Soldiers. Moving forward, we're going to document all the lessons learned. We're going to make sure that we don't make the same mistakes that we learned from this time, and that we can pass them off to the future leaders," said Johnson. "We all transition. We're going to switch out leaders, we're going to switch out Soldiers and they've got to be able to pick up where we left off. We're going to continue to be lethal, we're going to continue to train and continue to get better."