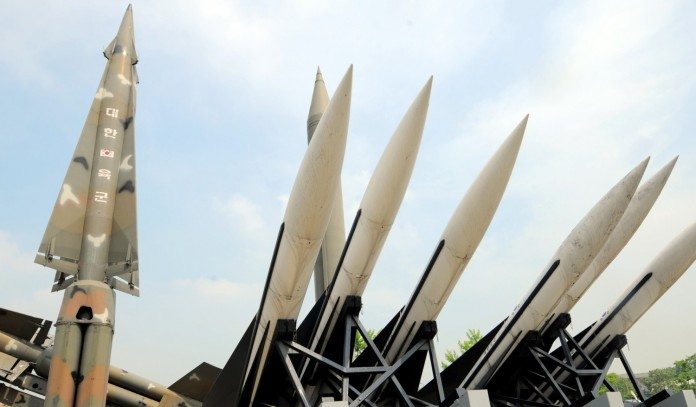 South Korea and US agreed Tuesday to bring their defense industry cooperation to an unprecedentedly high level, plus expand the rotational deployment of high-profile US military assets to and around the peninsula.
The summit accord came in response to growing threats from North Korea amid the South's campaign to bolster its own defense capability.
Reducing reliance on Washington in national security is key to Seoul's efforts to regain wartime operational control of its troops.
"(We) agreed to immediately start consultations for South Korea's acquisition and development of state-of-the-art military surveillance assets," President Moon Jae-in said in a joint press conference with his American counterpart Donald Trump in Seoul.
Trump said South Korea has already ordered, or will buy, billions of dollars of American military equipment.
"We have the greatest military equipment in the world and South Korea will be ordering billions of dollars of that equipment, which for them makes a lot of sense and for us means jobs and reducing our trade deficit with South Korea," he said. "But they will be ordering billions of dollars' worth of equipment and we have already approved some of those orders."
He did not provide details.
South Korea wants to acquire spy satellites to help monitor the North's nuclear and missile activities. It is also studying the feasibility of introducing nuclear-powered submarines.
US has never sold its spy satellites or nuclear-powered subs to a foreign country. This means Seoul will likely seek a relevant technology transfer or other cooperation from Washington in the format of "joint development."
When it comes to the submarine issue, "There are a lot of things to resolve, given its characteristics," a Cheong Wa Dae official told reporters on background.
The allies are not yet at the stage to produce any outcome on that matter, as they have to discuss it in a step-by-step process, he added.
South Korea has already bought more than 36 trillion won ($32 billion) worth of US weapons over the past decade. The items include four RQ-4 Global Hawk unmanned aerial vehicles and 40 F-35 stealth fighter jets.