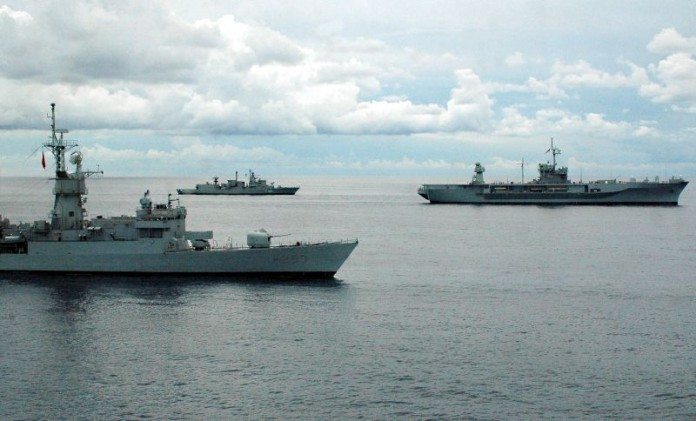 NATO agreed Thursday to send more ships towards Libya's coast but put off any decision on imposing a no-fly zone against the regime, saying it needed a clear legal mandate for military action.
NATO Secretary General Anders Fogh Rasmussen said the allied naval ships would bolster surveillance of Libya and monitor an arms embargo, amid an escalating war between Libyan leader Moamer Kadhafi's loyalists and opposition forces.
"It has been decided to increase the presence of NATO maritime assets in the central Mediterranean," he told a press conference after a meeting of defence chiefs.
However, there was no decision to launch a no-fly zone against Kadhafi's regime — a step favoured by Britain and France but opposed by Germany — with the alliance endorsing further military planning if the United Nations endorsed the move.
"We considered as well initial options regarding a possible no fly-zone in case NATO were to receive a clear United Nations mandate," he said. "Ministers agreed further planning will be required."
But with Russia opposed to an air exclusion area, UN backing appeared unlikely for any move to shut down Kadhafi's air force.
The session underscored divisions in the alliance over how to respond to the mounting conflict in Libya, with advocates of intervention worried about possible atrocities and the consequences of Kadhafi staying in power.
Many alliance ministers, including the US Defense Secretary Robert Gates, remain wary of a no-fly zone or other military action, saying it poses a host of risks, including a possible anti-Western backlash in the Middle East.
NATO allies are "very mindful of opinion in the region," Gates told reporters.
French President Nicolas Sarkozy, however, planned to propose air strikes on Kadhafi's command headquarters to EU leaders, a source close to discussions told AFP.
Until now, the most drastic measure advocated by some NATO members has been the imposition of a no-fly zone, not full-fledged bombing raids.
The ministers also called for urgent "detailed planning" for humanitarian efforts and for possible measures to enforce the arms embargo if called on by the UN Security Council, he said.
Thursday's decision meant the top NATO commander, Admiral Jim Stavridis, had the authority to redeploy three warships already in the Mediterranean along with minesweeper vessels, said a NATO official, who spoke on condition of anonymity.
The United States, Britain and France have already deployed ships to the area, with the Americans sending three warships with hundreds of Marines on board.
Despite signs of discord over how to respond to the crisis, the NATO chief said the ministers were "united".
"Our message today is NATO is united, NATO is vigilant, NATO is ready to act," he said.
The ministers said any military intervention against Kadhafi would have to have a legal basis and support from countries in the region, he said.
Rasmussen said "if there is a demonstrable need, if we have a clear mandate and strong regional support, we stand ready to help.
"Time is of the essence."
Rasmussen earlier announced the start of 24-hour surveillance of Libya's air space with radar-equipped aircraft, saying that "we are watching what the Libyan regime does to its people very closely indeed."
Although top US officials have sounded skeptical over a no-fly zone, there are signs Washington and its allies are mulling a possible plan of last-resort to deter Kadhafi from carrying out a mass slaughter of civilians from the air.
The US defence chief, Gates, has warned that a no-fly zone would entail attacks on air defense systems — which would likely be seen by Kadhafi and others as an act of war.