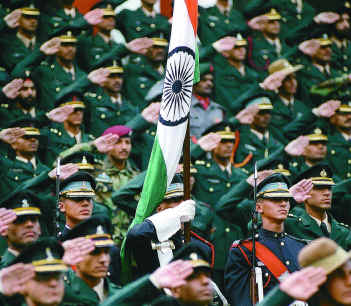 In announcing the selection of the Dassault Rafale as the Indian Air Force (IAF)'s new medium multirole combat aircraft (MMRCA) at the end of January 2012, India handed one of the world's most coveted defence contracts to the French aerospace sector at the expense of its rival Eurofighter. Eurofighter, a consortium of German, Italian, Spanish and UK defence firms, has not yet abandoned all hope of stealing the order away from Dassault. With the Indian government confirming that the French bid won mainly on price – with each Rafale costing US$5mn less than the Eurofighter Typhoon – Eurofighter confirmed in February that it was planning to submit a much-improved offer to New Delhi. Cassidian, a subsidiary of Eurofighter partner EADS, is handling the Eurofighter bid. However, with IAF officials publicly insisting that there could be no going back on the decision to procure the Rafale, Dassault is certainly the firm favourite to secure the initial order for 126 aircraft, worth in the region of US$10bn, and a possible follow-on order of 70 more aircraft.
Defence minister AK Antony announced shortly after his government's preference for Dassault was revealed that contracts would certainly not be signed during this financial year (which ends 31 March 2012). But barring any shock acceptance of Eurofighter's revised offer, Dassault will begin delivering 18 off-the-shelf Rafales in 2015, while Indian aerospace firm Hindustan Aeronautics Limited (HAL) will start delivering the remaining 108 aircraft, which it is building locally under licence, in 2017.
The Ministry of Defence (MoD) will be reluctant to court controversy by overturning its decision to acquire the Rafale given the problems it is experiencing with another IAF procurement programme. The IAF selected the Swiss Pilatus PC-7 Mk II turboprop trainer to fulfil an urgent requirement for new trainer aircraft in mid-2011. However, Korean Aerospace Industries (KAI), which offered its KT-1 trainer in competition, decided in February 2012 to file a complaint about procurement irregularities. The Pilatus deal now faces delays, which is a huge headache for an air force that is desperate to update its ageing and accident-prone trainer fleet.
In other significant procurement news, Russia agreed to supply the IAF with 42 Sukhoi Su-30 MKI fighter aircraft, in addition to the 230 that India has already ordered. The deal was signed during Prime Minister Manmohan Singh's visit to Moscow in December 2011. Russia remains one of India's key defence suppliers: it is also currently upgrading the Indian Navy (IN)'s fleet of Tupolev Tu-14 Bear maritime patrol aircraft; it delivered the refurbished nuclear attack submarine INS Chakra to the IN in January; it is continuing retrofit work on the aircraft carrier INS Vikramaditya, with delivery now due in late 2012; and it is also conducting upgrade work on the IN's three Talwar-class frigates to equip them with the joint Indian-Russian BrahMos cruise missile. In February New Delhi and Moscow also announced that their Indra joint military exercise – which was cancelled without any public explanation in 2011 – would resume in 2012.
While also preparing to hold joint military exercises with China in 2012, India agreed with the Chinese side to establish a 'working mechanism' to deal with incidents along the two countries' disputed border. The mechanism does not seek to help resolve the border dispute, though it should reduce the likelihood of localised confrontations between Chinese and Indian troops escalating into a wider conflict. The Indian army chief General VK Singh visited Myanmar in January, as India seeks to upgrade its strategic relationship with the country. Myanmar is understood to be keen to boost its ties with India to avoid falling too firmly under China's strategic influence, and India is similarly minded to restrict Chinese influence in its neighbourhood.
Separately, General Singh became embroiled in a damaging dispute with the MoD over his retirement date in early 2012. With the General approaching the mandatory retirement age of 62 in May 2012, he claimed to be one year younger than the age listed in the MoD's files – and took the MoD to court in order to press his claim to one more year in command of the Indian Army. In February, the Indian Supreme Court threw out General Singh's attempts to postpone his retirement by one year, handing a victory of sorts to the MoD. However, the episode has damaged the relationship between the army and the MoD, and that will pile added pressure on General Singh's replacement when he takes charge this May.
While India's Maoist insurgency continued in the country's eastern states, the security forces scored a major success in late November 2011 when they killed Maoist leader Malojula Koteswara Rao (also known as Kishenji) in a gun battle in West Bengal. New Delhi hoped that his elimination would lead to a let-up in Maoist violence.