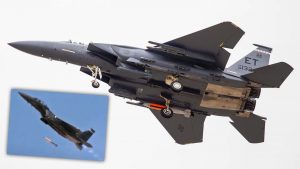 The F-15E Strike Eagle has officially become the first fully compatible fighter aircraft to carry and deploy the latest variant of the United States Air Force's (USAF) air-dropped nuclear munition – the B61-12.
In a media release on Twitter dated June 9th, Sandia National Labs stated that "Years of preparation have culminated in two test flights at Sandia's Tonopah Test Range that successfully confirm the B61-12 is compatible with the U.S. Air Force's primary fighter jet".
The attached press video reveals footage taken from the B61-12 Full Weapon System Demonstration test flights conducted at the Range from March 9th to 12th this year. The inert B61-12's deployment was tested from the F-15E at two different altitudes – 1,000ft (300m) and 25,000ft (7,620m) – with the lower altitude drop executed at transonic speed (around Mach 1.0). Surveillance cameras recorded the test munition being successfully dropped from the Strike Eagle's centerline and Conformal Fuel Tank (CFT) pylons from several angles, impacting the two sets of ground targets as designed.
"Sandia National Laboratories and the Air Force conducted the full-weapon system demonstration under a full end-to-end test scenario, demonstrating operational crews, representative carriage, release conditions and weapon functionality. The results speak for themselves, the tests met all requirements, both in performance and safety. It was delivered with precision accuracy; it worked, and it worked well," Sandia's B61-12 Systems Manager Steven Samuels said in the Twitter video.
A National Nuclear Security Administration (NNSA) press statement mentioned that the first production of the B61-12 is slated for completion in fiscal year 2022, instead of the previously-mentioned March 2020. The delay is likely attributed to an unsatisfactory Off-The-Shelf (OTS) part that was found by NNSA in Summer 2019, requiring additional time and several hundred million dollars to replace.
Following the F-15E, the upgraded B61 variant will proceed to be certified on the F-16C/D fighter and B-2A strategic bomber aircraft in USAF service. Similarly, allied Air Forces' aircraft such as the Luftwaffe's Tornado IDS and future F/A-18E/F Super Hornet will undergo certification tests as part of North Atlantic Treaty Organization's (NATO) nuclear deterrence policy.
"The success of these tests is a major milestone on the path to full rate production and the B61-12's initial operation capability on the F-15E in the coming years. Once delivered, this capability will underpin our nation's deterrent and strengthen our NATO partnerships," stated BRIG. GEN. Ty W. Neuman, NNSA's Principal Assistant Deputy Administrator for Military Application.