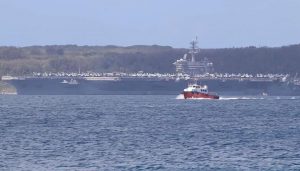 13 Sailors have been evacuated from the USS Theodore Roosevelt aircraft carrier due to retesting positive for COVID-19 as of March 16th, 2020. The Sailors were part of the disembarked crew who were placed in isolation earlier in April and May on Guam for testing positive for the coronavirus. During the isolation period, the remaining 700-strong skeleton crew onboard the carrier went about meticulously cleaning and disinfecting the ship. The cleaning task force used an intensive process called "Bleach-a-Palooza" to disinfect every space on the carrier over the span of three weeks. Pacific Fleet Commander ADM. John Aquilino visited the task force earlier in May, and commended them for their work "The Sailors on Theodore Roosevelt have been on the front line fighting this invisible adversary never before experienced by our Navy".
It was last reported that approximately 1,102 Sailors had tested positive for COVID-19 in April during the quarantine. The disembarked crew who had completed their 14-day isolation needed to be symptom-free and obtain a negative test result twice in a row before being allowed to return to the carrier. As a precaution, these Sailors were let onboard the ship in controlled batches to mitigate potential viral spread. Over 2,900 crewmembers have re-embarked the ship as of Thursday. The Navy reported that more than 25% of the carrier's crew, including the former Captain, had recovered from COVID-19.
However, five of the Sailors who had tested negative for the coronavirus were tested positive for it onboard the carrier on May 15th. They were swiftly evacuated off the ship, along with crews who came into close contact with them, and placed in isolation on Naval Base Guam once again. The Navy is also removing Sailors from the carrier who show any symptoms of illness, including sniffling. Safe distancing and sanitizing measures were maintained during their re-embarkation. The next day, an additional eight Sailors tested positive and also moved off the ship. Some of the Sailors who retested positive exhibited alternate symptoms such as headaches and muscle aches. An individual Sailor was diagnosed with tuberculosis. Navy spokesman CMDR. Myers Vasquez said in a press statement "This week, a small number of TR Sailors who previously tested COVID positive and met rigorous recovery criteria have retested positive. These protocols resulted in a small number of close contacts who were also removed from the ship, quarantined and tested. The ship remains on the road to recovery and will prepare to get back underway once a critical mass of crew with the required expertise is onboard". Speaking on the status of the lone Sailor down with tuberculosis, he noted "The individual has been removed from the ship, isolated, and will remain under the direct care of the naval health system until cleared by doctors".