The rumored prototype of China's "J-20 stealth fighter jet" has created a stir over the nation's defensive advancements, but analysts suggest that any such program would simply reflect the country's industrial military progress.
Pictures of the alleged fourth-generation jet fighter, equivalent to a fifth-generation craft under Western classifications, have been circulating on the Internet since mid-December.
The US-based Aviation Week magazine reported Monday that the prototype was undergoing high-speed tests late last week at the Chengdu Aircraft Design Institute's airfield in Sichuan Province.
Citing a picture taken by unknown sources, the report said that the J-20 resembles the shape of the US Air Force's F-22 Raptor and "would facilitate loading larger weapons" than the US jet due to a higher ground clearance.
However, the report said engine development was still a problem, adding that it is still too early to tell whether the J-20 is a true prototype or intended to simply demonstrate technology.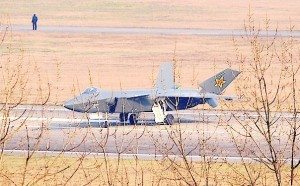 The Moscow-based RIA Novosti News Agency reported earlier that the J-20 could use the indigenous Shenyang WS-10 engine, which is inferior to Russian-made engines.
Chinese authorities have not commented on the latest speculations, but He Weirong, deputy commander of the People's Liberation Army Air Force (PLAAF), told China Central Television a year ago that the country was "making progress in developing a fourth-generation fighter jet."
[ppgallery id="12″ showmax="4″]
Shortly after his statement, the PLAAF clarified that the aircraft He referred to was actually an upgrade of the third-generation J-10 that possesses some fourth-generation features such as stealth and super-cruise capabilities.
"If the development of the J-20 is true, it will be another reflection of China's fast industrial advancement, which has already been highlighted by high-speed railways and space exploration," Song Xiaojun, a Beijing-based military expert, told the Global Times. "Besides the global, military impact, the rumored J-20 also bears political significance because it represents China's growing power."
He disagreed with some media reports that China is becoming aggressive militarily. "The country's increasing military strength matches its economic growth," Song added.
"Fifth generation" is a term used by US officials to described the most advanced fighter jets that incorporate technologies such as all aspects of stealth, even when armed, as well as possess a low probability of radar intercept and highly integrated computer systems. Under this classification, the US is the only country in the world that has combat-ready, fifth-generation aircraft, namely the F-22 and the F-35 Lightning II models. Russia's fifth-generation fighter jet, the T-50, made its debut in January 2010 but has not been equipped by the air force.
In December, Moscow and New Delhi reached a raft of defense and nuclear deals potentially worth billions of dollars, including joint design and development of fifth-generation fighter aircraft based on the T-50.
It took 15 years for the US military to develop the F-22, which costs around $150 million per unit. However, its production was terminated after President Barack Obama signed the country's 2010 defense bill that included huge spending cuts.
In promoting the defense bill, US Defense Secretary Robert Gates said in 2009 that China "is projected to have no fifth-generation aircraft by 2020" and only a "handful" by 2025, Reuters reported.
Li Daguang, a military expert at the PLA National Defense University, told the Global Times that Gates' prediction was overly optimistic.
"The recent rumor about the J-20 is pure speculation," he said. "The F-22 is an offensive weapon that fits Washington's global strategy. China's defense development is self-defensive in nature and does not require a fighter jet of that caliber.
"Furthermore, if China does want a fourth-generation fighter jet, it needs to build a large number of them in order to affect the regional military balance. The US has capped its number of F-22s at 187. How many should China build?"
Li also noted that China's aviation technology is still far away from competing with Western countries, especially the US.
"Some Western media are more optimistic than Gates, and than the Chinese people," he said. "They've hyped the issue because they want to."