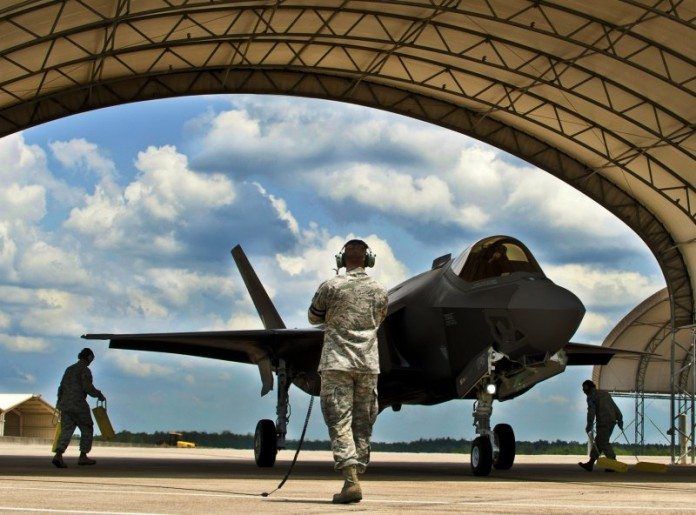 Canada's government faced a storm of criticism Friday after a newspaper reported it was scrapping plans to buy US-made F-35 fighter aircraft because of rising costs.
The National Post said a key cabinet committee reached the decision Tuesday after reviewing a soon-to-be-released audit by KPMG that concluded the lifetime cost of the program now exceeds $30 billion, nearly double the original estimate.
Andrew MacDougall, Prime Minister Stephen Harper's spokesman, said on his Twitter account that the National Post story was "inaccurate on a number of fronts," adding that the cabinet had not yet taken a decision.
The program now goes to the cabinet's priority and planning committee, which is scheduled to meet Friday.
But the story ignited a furious reaction in parliament where opposition lawmakers accused the conservative government of incompetence amid calls for the resignation of Defense Secretary Peter McKay.
Jacques Gourdes, the parliamentary secretary of the Public Works Ministry, responded to the barrage by repeating that the government remained committed to a seven point plan for replacing Canada's aging fleet of CF-18 aircraft.
"The government will give an update before the end of the parliamentary session," he said.
Canada had planned to spend $8.5 billion to buy 65 aircraft, or $16 billion when maintenance is included.
The development of the stealth fighter, however, has been plagued by technical problems that have prompted some countries to cancel, scale back or defer purchases.
Harper in February had opened the door to reducing the number of F-35s the government will buy, so as to stay within budget amid rising costs.
In April, Auditor General Michael Ferguson criticized the defense ministry for failing to establish the lifetime costs of maintaining the aircraft, which he put at $20 billion.
Canada is one of nine countries that are part of a US-led consortium to build the F-35 fighter. The others are Britain, Italy, the Netherlands, Turkey, Australia, Norway and Denmark.
Israel and Singapore also participate in the program, and Japan has said it will buy 42 of the aircraft. The United States plans to buy 2,400.