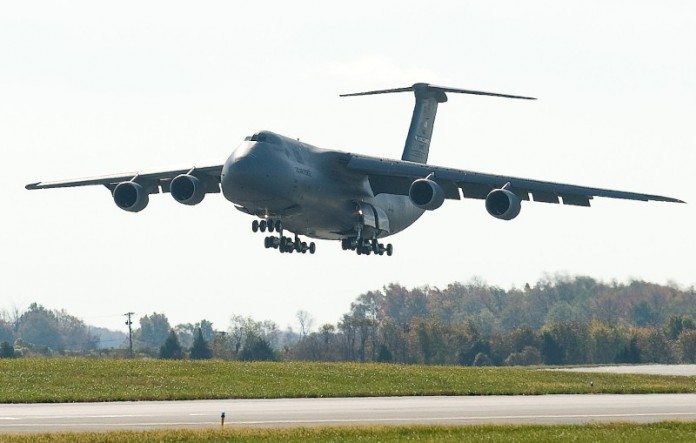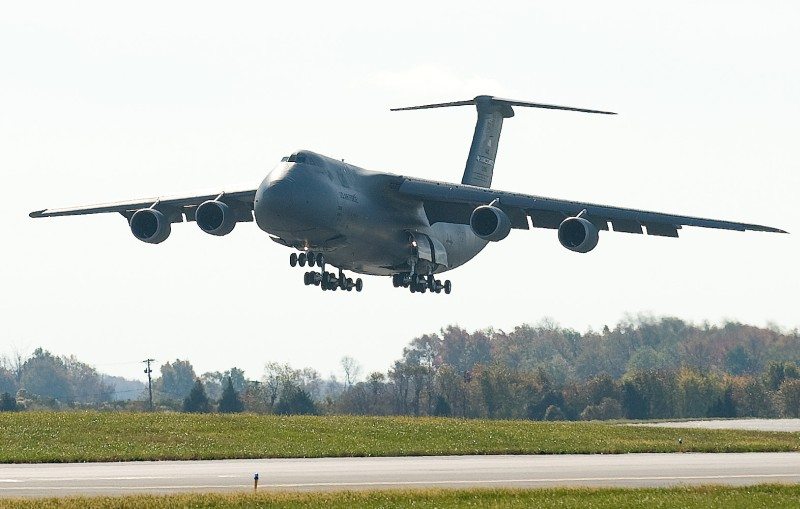 The Air Force's biggest airlifter — the C-5 Galaxy — and the Airmen who maintain and fly them are part of a U.S. Transportation Command "multi-modal" effort to move Army helicopters to Afghanistan.
The operation under way in Western Europe features two C-5B and two C-5M Super Galaxies and crew and maintenance Airmen from the 436th Airlift Wing at Dover Air Force Base, Del., according to officials at the Tanker Airlift Control Center here. The C-5s are airlifting approximately 3,300 tons of cargo — mainly Army helicopters that include the CH-47 Chinook, UH-60 Black Hawk and OH-58 Kiowa.
USTRANSCOM officials apply the term "multi-modal" to the movement of passengers and cargo by more than one mode of transportation. In this operation, commercial ships carry equipment and helicopters for the Army's 159th Combat Aviation Brigade to Western Europe, and from there C-5s carry the cargo to Afghanistan. At the same time, equipment and helicopters from the 101st Combat Aviation Brigade are flown back to Western Europe from Afghanistan and then reloaded on ships back to the United States.
Overall, TACC officials said, the C-5s are moving more than 170 helicopters in this operation.
The C-5 can carry more than any other airlifter, according to an Air Force fact sheet. It has the ability to carry 36 standard pallets and up to 81 troops simultaneously. The Galaxy also carries all of the Army's air-transportable combat equipment, including such bulky items as its 74-ton mobile scissors bridge (or helicopters) from the United States to any theater of combat on the globe. It can also carry outsize and oversize cargo intercontinental ranges and can take off or land in relatively short distances.
In terms of getting this overall effort done, TRANSCOM is the key to success, according to its commander, said Gen. Duncan J. McNabb, the TRANSCOM commander.
In a February speech at the Center for Strategic and International Studies, General McNabb said, "No other nation can do what we do." He noted how the service portions of USTRANSCOM work together: Air Mobility Command, the Military Sealift Command and the Army's Surface Deployment and Distribution Command.
In discussing the multi-modal concept, General McNabb said, "What we've found, like the rest of the industry, is that if you can figure out how to do this inter-modally, you can figure out where I can go commercially, and then where I need to go militarily, or I can go surface or air, depending on the threat."
This allows planners to ensure they are taking care of warfighters while delivering people, supplies and equipment in the most cost-efficient manner, General McNabb said.
(U.S. Transportation Command Public Affairs and Capt. Justin Brockhoff from TACC Public Affairs contributed to this report.)