SMARDEN, Romania -1st Battalion, 5th Cavalry Regiment (Black Knights), 2nd Armored Brigade Combat Team, 1st Cavalry Division, conducts a Combined Arms Live Fire Exercise (CALFEX) in both Smarden, Romania and Novo Selo, Bulgaria, Feb.16-22, 2020.
The objective of the CALFEX is to validate the company's ability to work as a cohesive team, while integrating multiple platforms such as the M1 Abrams tanks, Bradley Fighting Vehicles, infantry, artillery, with multi-national partners for a combined mission.
Unlike CALFEX training back home in Fort Hood, the Black Knights have the unique opportunity to train on unfamiliar terrain and integrate allies and partners including Romanian and Bulgarian forces.
"We have been able to partner with our host nation; learn their culture, learn their traditions, learn how their military fights and get to know them on a personal level," said Lt. Col. Timothy Meadors, 1-5 CAV battalion commander.
Alpha 1-5 CAV company commander, Cpt. Zachary Ricketts, explains what he learned while training with multinational partners.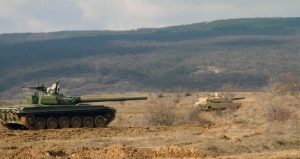 "Just how alike we are… Despite there is some distance and cultural differences, we are the same Army," said Ricketts. "We may have some different tactics here and there with minor things, but ultimately, they have a similar Army in wanting to be successful, and they strive everyday to get better and protect our homeland."
The Black Knights have trained all year for the CALFEX to include conducting multiple gunnery and platoon size exercises.
"This is a really big event; it means a lot to infantry and tankers especially. This is our Superbowl. If we get this right, then we feel really comfortable if we get deployed to go overseas," said Staff Sgt. Robert Gill, 1-5 CAV battalion master gunner.
To coordinate an exercise of this magnitude, many different elements must work together to plan and prepare.
"One of the vital things about a Combined Arms Live Fire Exercise is to recognize all the different pieces that plug in to essentially accomplish the mission," said Meadors. "We have tanks, Bradleys, artillery pieces and mortars, but that's just the equipment. We also have people that run the gamut to make something like this happen."
Every job plays a vital role in the execution of the CALFEX.
"We have tankers, infantrymen, medics, mechanics, drivers, gunners and loaders, but we also have cooks, and others who support this effort," said Meadors. "The thing that is not often observed is that there is a tremendous amount of team work. We talk about combined arms many times. We focus on the equipment and the fire power but what we also have to focus on is the individuals."