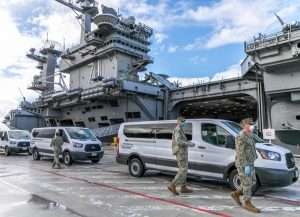 Friday, April 24th, the U.S. Navy has completed its COVID-19 testing for 100% of the crew onboard the USS Theodore Roosevelt (CVN-71) aircraft carrier. The carrier had pulled into port at Naval Base Guam on March 27th, as part of scheduled port calls whilst returning to her home port in San Diego, California. 840 of the Sailors have tested positive for the coronavirus infection, with 4,098 others testing negative.
As of Friday, a total of 4,234 Sailors have been disembarked onto quarantine facilities on Guam. Sailors who have tested positive for the COVID-19 infection were isolated in base housing at Naval Base Guam, while those who have tested negative were moved into hotels located in Tumon and Tamuning. Four of the Sailors remain warded in Naval Hospital Guam with none in the Intensive Care Unit, 88 of those tested positive having recovered from the infection. Approximately 230 personnel from 3rd Medical Battalion, 3rd Marine Logistics Group (3rd MLG), III Marine Expeditionary Force (III MEF) deployed to Guam from their Okinawa garrison to support the needs of disembarked USS Theodore Roosevelt crew. The Marines arrived on station within 72 hours of notice from the Navy, providing medical screening, clean laundry and food for the Sailors on a daily basis. Photographs and videos showing appreciation for the Marine personnel have surfaced online, including a 1+ minute YouTube video published by the U.S. Navy. "The rapid response by the 3rd MLG was incredible. Their footprint ashore will ensure our Sailors off ship are well cared for," said RADM. Stuart Baker, Commander, Carrier Strike Group Nine. The 3rd MLG's medical personnel will augment the efforts of the carrier's onboard medical team who are providing first-line assessment and treatment of crewmembers.
U.S. Navy Task Group 75.5 have constructed a 150-bed Expeditionary Medical Facility (EMF) at Naval Base Guam with the coordinated support of Naval Mobile Construction Battalions 1, 5 and Naval Cargo Handling Battalion 1. Additionally, 30 Airmen from the U.S. Air Force's 554th RED HORSE Squadron, 36th Wing from the nearby Anderson Air Force Base had pitched to construct the Expeditionary Medical Support System (EMEDS) at the Naval Hospital. The EMEDS is a modular field hospital, providing 25 extra beds, medical supplies and equipment, as well as 77 medical personnel to diagnose and treat Sailors and any Guam residents outside the Hospital building. "We can't say enough good things about the RED HORSE Squadron. They've been instrumental in getting this operation off the ground," said Lt.Col. Damian Pardue in a statement released on April 19th.
Elsewhere, 18 Sailors have tested positive for COVID-19 on the U.S. Navy guided-missile destroyer USS Kidd (DDG-100) as it was conducting counter-narcotics operations in the Southern Command area of responsibility. The destroyer is currently returning to port to disembark its crew, so that thorough disinfection can be carried out. The first Sailor to be infected with the coronavirus had been MEDEVACed off the ship via helicopter to San Antonio, Texas for medical treatment. The Navy said in an update that the currently hospitalized Sailor is in stable condition, and they have arranged for a medical team to be flown to the destroyer in response to the outbreak. "We are taking every precaution to ensure we identify, isolate, and prevent any further spread onboard the ship. Our medical team continues coordinating with the ship and our focus is the safety and well-being of every Sailor," said RADM. Don Gabrielson, Commander, U.S. Naval Forces Southern Command in a statement on Friday.