Global reach is an important aspect of the U.S. military's warfighting ability, and aerial refueling helps to make global reach a reality.
Aerial refueling — also called air-to-air refueling and tanking — is the process of transferring fuel from a military tanker aircraft to another military aircraft, including fixed-wing jets and helicopters.
Flying booms make this possible, with the tanker flying ahead at an elevated position and the receiving aircraft flying behind and lower with a receiver. A boom operator in the tanker lowers the flying boom. Some military aircraft use a hose-and-drogue method instead of a flying boom, but the operation of both types is similar.
The goal of aerial refueling is to extend the range or time an aircraft can remain in the air. Aerial refueling also saves time because the aircraft doesn't have to land to refuel.
It also benefits aircraft operating on short runways, which have to limit their takeoff weight to be able clear the end of the runway. A tanker flying overhead can then refuel the plane once it's airborne.
The first air-to-air refueling took place in 1923 between two De Haviland DH-4B Army Air Service airplanes. During World War II, the Army Air Forces modified B-24 Liberators, so they became tankers that refueled the B-17 Flying Fortress, extending the bombers' range to 1,500 miles.
But it wasn't until after World War II that aerial refueling was used on a large scale.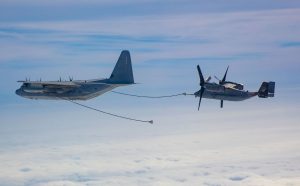 Today, the KC-135 Stratotanker provides the core aerial refueling capability for the Air Force. It also provides aerial refueling support to Air Force, Navy, Marine Corps and aircraft of allied nations. KC-135s can even refuel two aircraft simultaneously.
Through the years, the KC-135 has been altered to do other jobs, such as — flying command post missions and reconnaissance. The KC-135 fleet is aging; its replacement, the KC-46 Pegasus, will replace the older Stratotankers.
The first Pegasus was delivered to the Air Force in January 2019. The last KC-135 is not expected to be retired until 2040, when they'll be 80 years old.
The Navy has a squadron of KC-130F Hercules refuelers, and the Marine Corps has a squadron of KC-130T Hercules refuelers.
The Marine Corps recently experimented with ground-to-ground refueling of the F-35B joint strike fighter. The MV-22 Osprey can carry about 12,000 pounds of fuel, and there are plans for it to have air-to-air refueling capability to keep F-35B fighters aloft longer.