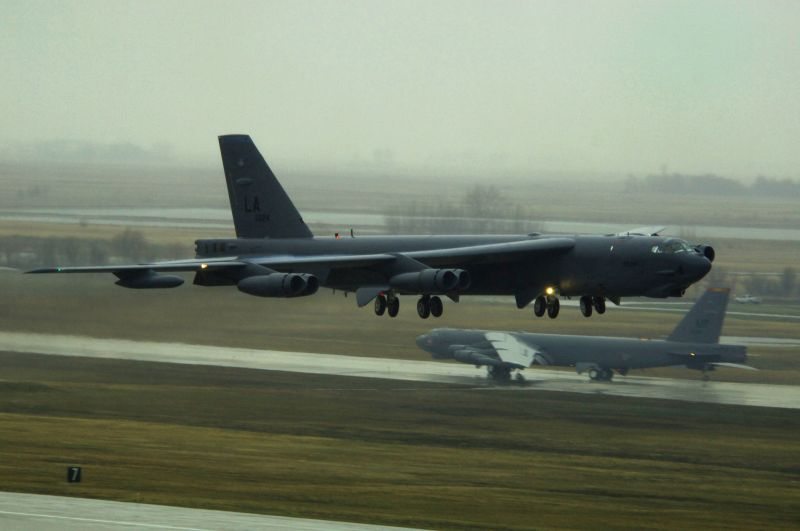 Two B-52 Stratofortresses from Barksdale Air Force Base, La., and two B-2 Spirit bombers from Whiteman Air Force Base, Mo., recently flew non-stop from their home stations to training ranges in Hawaii to exercise the president's credible and flexible military options to meet national security obligations to the U.S. and its allies. Part of the mission was to conduct coordinated range operations amongst multiple airframes as well as test low approach training capabilities before returning to their bases.
"These long-duration, coordinated training missions allow our strategic bomber aircrews to execute synchronized global strike missions tailored to the needs of the combatant commander," said Maj. Gen. Scott Vander Hamm, commander, 8th Air Force and Joint Functional Component Commander for Global Strike.
The mission, which spanned nearly 8,000 miles from home station to the drop site and back to the home installation, tested the ability for planners to coordinate operations between combatant commands and amongst multiple Air Force wings. The 20-plus hour training missions also demonstrated the U.S.' capability to provide a flexible and always-ready force to respond to a variety of threats and situations within U.S. Strategic Command's global strike and strategic deterrence missions.
During the training mission, bomber crews enhanced their operational proficiency and readiness by releasing their inert ordnance on Hawaii's Pohakuloa military weapon range. They also honed their skills at operating during a long duration flight; an important element of U.S. Strategic Command's enduring deterrence capability.
"These tailored exercises are vital to assuring our nation's leaders and our allies that we have the right mix of aircraft and skill to strike at the time and place of our choosing," General Vander Hamm said.
The Department of Defense routinely conducts training missions to ensure the U.S. has a credible capability to respond to a variety of levels of threats and to provide the President a variety of options he may need to protect the nation or its allies and partners.
"Most bomber missions are long duration like this. The experience gained from this kind of training mission is invaluable," said Lt. Col. Ryan Link, 96th Bomb Squadron commander, Barksdale AFB. "We boost our coordination capabilities and flying skills, and our bomber force is better for it."
The B-2 and B-52 are long-range, multi-role bombers capable of delivering both conventional and nuclear munitions. Both bombers can fly at high subsonic speeds at altitudes up to 50,000 feet.