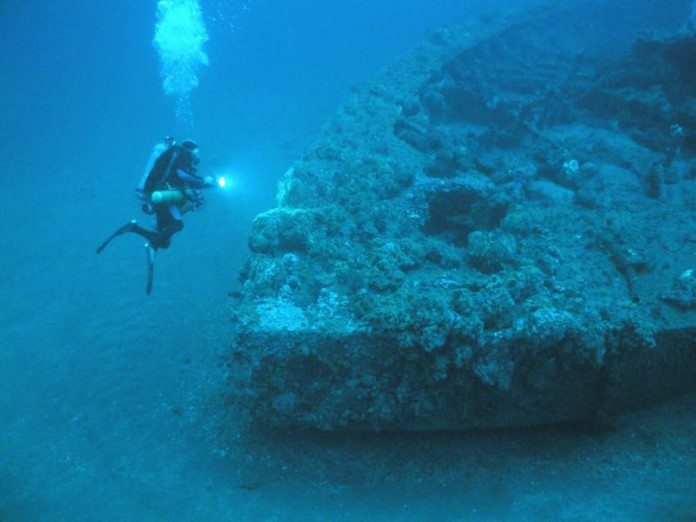 The remains of two sailors who died aboard a famed US Civil War ship were buried with full military honors on Friday, 151 years after their groundbreaking vessel fought a crucial battle.
The skeletons of the unidentified crew members were recovered in 2002 off the coast of North Carolina, where the Union's USS Monitor went down in a storm in 1862.
The extraordinary ceremony at Arlington national cemetery was held on the 151st anniversary of the naval battle that made the ship famous.
The Battle of Hampton Roads saw the Union's Monitor fend off a dramatic attempt by another iron-clad gunboat, the South's CSS Virginia, to break a Union blockade at the Virginia port of Hampton Roads.
After trading cannon fire for hours, the fight ended in a draw with both ships surviving. But the South had failed to break the damaging Union blockade at the Virginia port.
The battle not only shaped the course of the war but ushered in a new era in naval warfare, with ships afterward built from iron and steel instead of wood.
The Monitor's design, by Swedish inventor John Ericsson, was radical for its time and was ridiculed as a "cheese box on a raft" and a "tin can on a shingle."
The innovative design allowed the vessel to ride low in the water and included a rotating turret containing the ship's powerful cannons.
Although the Monitor endured a barrage of cannon fire in battle, treacherous seas brought the ship down nine months later.
As it was being towed off Cape Hatteras, the Monitor was caught in a fierce storm and sank on New Year's Eve, 1862. Another ship rescued 47 crew members but 16 sailors perished, including the two crewmen interred at Arlington.
Despite elaborate efforts since 2002, the remains of the two sailors found on the ocean floor could not be successfully identified.
The 1861-65 Civil War, between the northern US states and the secessionist southern states, ended in defeat for the South after an appalling death toll, with an estimated 750,000 men killed.
Friday's ceremony was attended by descendants of those who died on the Monitor, including some believed to be possibly related to the two men buried on Friday.
"It's important we honor these brave men and all they represent as we reflect upon the significant role Monitor and her crew had in setting the course of our modern Navy," said Ray Mabus, secretary of the navy.
Mabus and other officials presided over the ceremony as did one of the foremost scholars on the Civil War, James McPherson.
In his book "War on the Waters," McPherson wrote: "Naval warfare would never again be the same after history's first battle between ironclads."
One of the ship's officers who was rescued wrote of that terrifying night when the Monitor was swamped in a storm.
"I have been through a night of horrors that would have appalled the stoutest heart," wrote the officer a few days later. "What the fire of the enemy failed to do, the elements have accomplished."