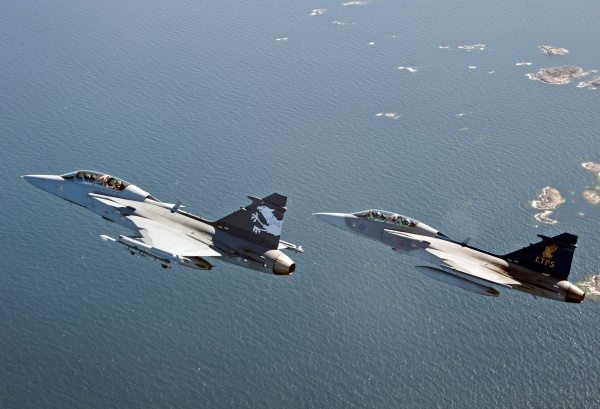 After a long delivery flight from Sweden, FMV has now delivered the seventh, eighth and ninth JAS 39 Gripen aircrafts to the Royal Thai Air Force. The entire order consists of twelve planes.
On behalf of the Defence Export Agency FMV has coordinated the delivery and Gunnar Lindberg, who is project manager at FMV Test and Evaluation site, summarizes some intense months:
"I have a long list of measures that we have checked off. Among others – test flights, technical issues and diplomatic contacts. And thanks to experienced staff and good cooperation with everyone involved, we were able to resolve all issues."
On 2 April three Gripen aircraft started from FMV's facility outside Linköping. The last main point on Gunnar Lindberg's action list was underway. Gunnar himself sat in a Hercules aircraft along with technicians and aeronautical equipment.
FMV's test pilots Joakim Wengelin and Fredrik Süsskind had planned the delivery flight in eight stages. This required permission to fly over eight countries. It also required permission to both fly over and land temporarily in Hungary, Greece, Jordan, Saudi Arabia, United Arab Emirates, Oman and India and Thailand.
Facts:
Thailand has ordered two rounds of an integrated air defense system from the Swedish government through the Swedish Defence Materiel Administration, FMV. The first agreement was signed in 2008 included six JAS 39 C/D a Saab 340 AEW and a Saab 340 for transport and training. It contained, in addition to the equipment, a comprehensive logistic support, training for Thai pilots and technicians as well as simulators. Sweden also contributed with a support group in place in Thailand.
These first six JAS 39 Gripen C/Ds fighters, out of twelve ordered, were delivered by FMV in February 2011.
The second agreement that FMV signed with Thailand in November 2010 includes a further six Gripen fighter aircraft of the C version, along with a Saab 340 with Erieye radar and the Swedish RB 15F missile system. The Saab 340 plane and the missile system are already delivered. And today, FMV delivered three more Gripen aircraft.
The remaining three fighter planes will be delivered after the summer of 2013.