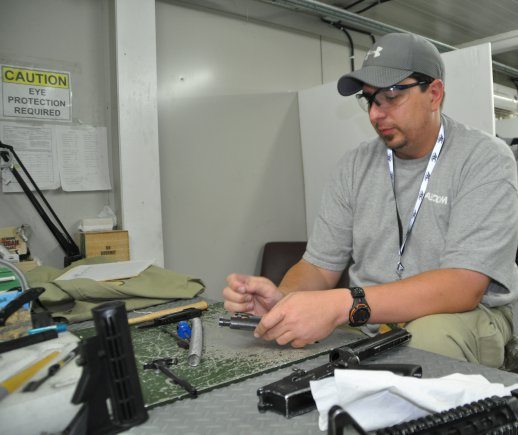 "We will never turn you away." said Richard Nash, lead weapons repair technician at the Small Arms Support Center at Kandahar Airfield. "We will take care of you right here and now."
Located on the 401st Army Field Support Battalion Kandahar's compound, the SASC-KAF is a weapons repair shop that can repair every kind of weapon from a 9 mm pistol to a howitzer cannon. They fix weapons from all over Southern Afghanistan and if they cannot fix it they will do a one-for-one exchange of the weapon.
"There's not much we can't do." said Nash. "This is a one-stop shop."
Usually repairs can be made in just a few days by the team of armorers, most of whom received training while serving in the Army, Navy or Marines. Every weapon is dissected, repaired and tested to ensure the weapon functions better than when it came in the shop.
"They have the capability to replace almost every weapon in the U.S. arsenal." said Chief Warrant Officer 2 Matthew Dress, who oversees the center for the 401st AFSBn-KAF. "It's beneficial to have them here to keep the Soldier in the fight."
"We take care of the warfighter," continued Nash. "We all know what it's like to be on the other side of the counter."
The center repairs about 400 to 500 weapons every month and is open from 7 a.m. to 7 p.m. daily. They have repaired approximately 4,000 weapons since October of 2010.
The SASC-KAF also assists the Army's Tank-Automotive and Armaments Command with fielding new weapons systems and will often go to units to conduct weapons trainings.
"The crew we have at Kandahar is the best, hands down." said Calvin Coats, TACOM logistics assistance representative.