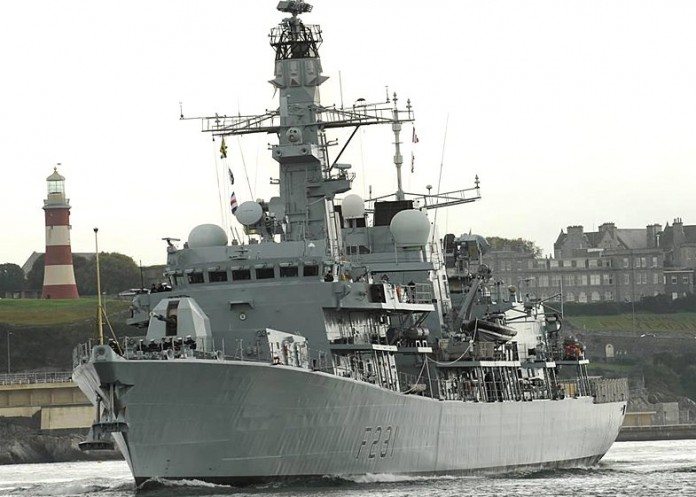 The Royal Navy's oldest frigate, newly rejuvenated following a £20m, year-long refit, is ready to resume her place among the ships of the front line fleet.
It took 13 months to turn an inanimate, largely lifeless hull in the middle of a refit into a cutting-edge warship ready for anything that global events and nature can throw at her.
Nine months after emerging from that comprehensive makeover in Rosyth, the Devonport-based Type 23 Duke Class frigate came through her final, 'acid' test – operational sea training.
The ship passed, like she has done every trial and inspection this past year or so, 'with flying colours'.
Argyll began to 'crew up' in earnest in May 2010 – four months before her refit was due to conclude.
Just shy of 300,000 man-hours were devoted to the ship's refit as the Type 23 frigate received the latest version of the Seawolf air defence missile system, a new command system, one new main gas turbine, two generators, and the MOD's latest e-mail and internet system, DII(F).
She emerged from that refit three days ahead of schedule – and has maintained that impressive pace throughout the long road back to front line duties.
It all came to a head with two months in the hands of the Flag Officer Sea Training instructors and assessors this spring/summer.
A large part of the training consisted of simulated battles on a daily basis, whether externally with enemy missiles, aircraft, ships and submarines, or internally with fires, floods and machinery breakdowns – most of which occurred simultaneously on Thursdays in the infamous 'Thursday War'.
The final phase of training was specific to the role that Argyll will perform for real towards the end of the year when she deploys east of Suez on maritime security patrols:
"Argyll is ready, in all respects, to undertake any operational tasking as part of the fleet," said her Commanding Officer, Commander Paul Stroude.
"We have achieved this significant milestone with the perseverance, hard work and sheer determination of the crew.
"I am truly proud of the ship's company and the team that delivered her refit. The name of HMS Argyll is now synonymous with professionalism of the highest order."
Launched by Lady Wendy Levene in 1989 and commissioned into the Royal Navy on 30 May 1991, HMS Argyll has strong links amongst her sister services, including with HMS Vivid of the Royal Naval Reserve, The Argyll and Sutherland Highlanders, 5th Battalion The Royal Regiment of Scotland (5 SCOTS), and 47 Squadron RAF.