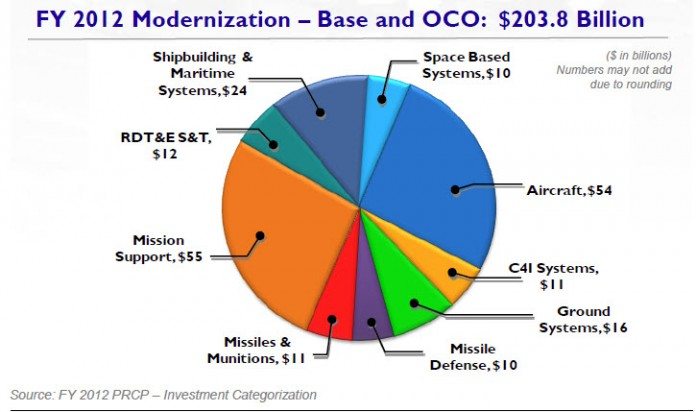 The combined capabilities and performance of U.S. weapons systems are unmatched throughout the world, ensuring that our military forces have the advantage over any adversary.
The DoD (FY) 2012 request totals $553.1 billion, of which $203.8 billion is for Procurement, and Research, Development, Test and Evaluation (RDT&E) programs.
The funding in FY 2012 includes both Base ($188.4 billion) and Overseas Contingency Operations (OCO) ($15.4 billion) funding:
For RDT&E appropriations: $75.7 billion (Base, $75.3 billion; OCO, $0.4 billion);
For Procurement: $128.1 billion (Base, $113.1 billion; OCO, $15.0 billion). Of this amount, $85.3 billion is for programs that have been designated as Major Defense Acquisition Programs (MDAP).
To simplify the display of the various weapon systems, this book is organized by mission area categories:
Aircraft
Command, Control, Communications, and Computer (C4) Systems
Ground Programs
Missile Defense
Munitions and Missiles
Shipbuilding and Maritime Systems
Space Based and Related Systems
Mission Support
Science and Technology
Full Report in PDF Format
[Download not found]
Aircraft
Aviation forces — including fighter/attack, bomber, mobility (cargo/tanker) and specialized support aircraft — provide a versatile striking force capable of rapid deployment worldwide. These forces can quickly gain and sustain air dominance over regional aggressors, permitting rapid air attacks on enemy targets while providing security to exploit p g y p the air for logistics, command and control, intelligence, and other functions. Fighter/attack aircraft operate from both land bases and aircraft carriers to combat enemy fighters and attack ground and ship targets. Bombers provide an intercontinental capability to rapidly strike surface targets. The specialized aircraft supporting conventional operations perform functions such as surveillance, airborne warning and control, air battle management, suppression of enemy air defenses, reconnaissance, and combat search and rescue. In addition to these forces, the U.S. military operates a variety of air mobility forces including cargo, aerial-refueling aircraft, helicopters, and support aircraft.
Aircraft funding has continued to increase to support the procurement of aircraft such as the F-35 Joint Strike Fighter, the V-22 Osprey, and the Navy's F/A-18 E/F Super Hornet and E/A-18G Growler.
Command, Control, Communications, and Computer (C4) Systems
The Department is transforming and developing new concepts for the conduct of future joint military operations. The overarching goal is full spectrum dominance— defeat of any adversary or control of any situation across the full range of military operations—achieved through a broad array of capabilities enabled by an interconnected network of sensors, shooters, command, control, and intelligence.
This network-based interconnectivity increases the operational effectiveness by assuring access to the best possible information by decision-makers at all levels, thus allowing dispersed forces to communicate, maneuver, share a common user-defined operating picture, and successfully complete assigned missions more efficiently. Netcentricity transforms the way that information is managed to accelerate decision making, improve joint warfighting, and create intelligence advantages. Hence, all information is visible, available, usable and trusted—when needed and where needed—to accelerate the decision cycles. Net-centricity is a service-based architecture pattern for information sharing. It is being implemented by the Command, Control, Communications, Computer, and Intelligence (C4I) community via building joint architectures and roadmaps for integrating joint airborne networking capabilities with the evolving ground, maritime, and space networks. It encompasses the development of technologies like gateways, waveforms, network management, and information assurance.
Ground Programs
The Department continues to modernize its ground force capabilities to ensure the United States remains a dominant force capable of operating in all environments across the full spectrum of conflict. The Army and Marine Corps equip each soldier and marine with the best equipment available to succeed in both today's and tomorrow's operations.
Modernization and upgrade of selected core systems is a continuous process. Some of the existing programs are targeted for upgrades to include howitzers, Stryker vehicles, M1 Abrams, Bradley Fighting Vehicle, and the Light Armored Vehicle (LAV). The Army is focused on developing a Ground Combat Vehicle (GCV) to provide a new infantry fighting vehicle to the war fighter. The GCV has the design growth to adapt to capabilities as the operational environment changes and technology matures to position soldiers for long-term success. The Marine Corps is developing the Marine Personnel Carrier (MPC), an advanced generation armored personnel carrier that would provide general support lift to the marine infantry in the ground combat element based maneuver task force.
Missile Defense
Missile Defense is a general term for air and missile defense. This category includes cruise missile, air and ballistic missile defense systems program development. The Missile Defense Agency and the Army are the program developer's. Missile Defense includes all components designed to defeat hostile ballistic missiles of various ranges. A missile defense system includes interceptor missiles, as well as the associated sensors and command, control, battle management, and communications. Other significant investments include construction, targets and countermeasures, and research, development, testing, and evaluation activities. Encompassed in this category are all programs that are either critical to the functionality of missile defense or support missile defense as a primary mission.
Munitions and Missiles
Munitions is a general term for ammunition and missiles including conventional ammunition, bombs, missiles, warheads, and mines. This category includes conventional and nuclear weapons and weapons used for both tactical and strategic purposes. Many of the missiles and munitions are precision guided with the technical sophistication to allow guidance corrections during flight-to-target.
Some programs include non-explosive articles that enhance the performance of other munitions. For example, the Joint Direct Attack Munitions (JDAM) adds guidance capability when attached to a gravity bomb, making it a "smart" bomb.
Note: Interceptor missiles supporting the missile defense mission are included in the Missile Defense section.
Shipbuilding and Maritime Systems
A central principle to the U.S. Maritime Strategy is forward presence. Forward presence promotes conflict deterrence by ensuring forces are in a position to expeditiously respond to conflict. Therefore, sea services must buy, build, and maintain maritime systems in accordance with mission need.
The Shipbuilding Portfolio details programs that ensure the accomplishment of the overall maritime mission. The Shipbuilding Portfolio consists of bought, built, and maintained systems, subsystems, and components. The 313-ship fleet will allow the U.S. to maintain maritime superiority well into the 21st century. The mobilization of the 313-ship fleet will ensure mission accomplishment.
Space Based and Related Systems
Space assets support deployed United States forces by providing communications services, navigation capabilities, and information collected by remote sensors such as weather satellites and intelligence collection systems. Space forces contribute to the overall effectiveness of U.S. military forces by acting as a force multiplier that enhances combat power. The capability to control space contributes to achieving information superiority and battle space dominance.
Procurement of satellites and launch services are typically funded two years prior to launch. Generally speaking, the first two satellites of a new system are purchased with Research, Development, Test & Evaluation funding and the remainder of the satellites are purchased with procurement funding. The Air Force is implementing approaches to maximize efficient satellite acquisitions. These approaches include buying blocks of satellites, using fixed-price contracting to stabilize requirements, promoting a stable research and development investment for evolutionary growth, and modifying the annual funding approach for industrial base efficiency.
Full Report in PDF Format
[Download not found]