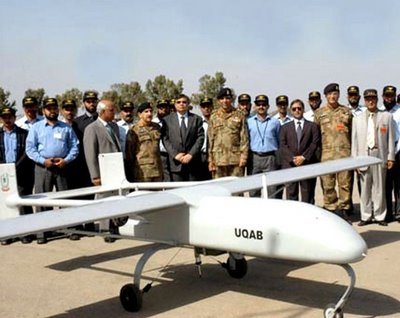 A Pakistani surveillance navy drone crashed near an oil refinery after hitting a bird on a routine flight, coming down in the country's largest city of Karachi on Tuesday, the navy said.
"A Pakistan Navy UAV (unmanned aerial vehicle) crashed after a bird hit it. It fell near an oil refinery and there was no (other) damage," navy spokesman Commodore Irfan Ul Haq told AFP in Islamabad.
Fellow navy spokesman Commander Salman Ali told AFP that there were no casualties and that the drone had been on a surveillance flight when a bird flew into the aircraft and it came down in the Karachi suburbs.
Pakistan's military is known to operate surveillance drones but the United States operates a drone missile war in the country's northwestern border areas with Afghanistan, targeting Taliban and Al-Qaeda militants.
The campaign is deeply unpopular among an anti-American public and the government has publicly demanded an end to the attacks, although in private military and civilian leaders are thought to cooperate in the programme.
Ali refused to say how many drones the nuclear-armed nation operates.
"We can't give the figure, but we use them for surveillance and photography over our territorial waters," Ali said.
It was the third aircraft crash in Karachi in eight months.
On November 28, seven Ukrainians and a Georgian were killed when their Ilyushin IL-76 cargo plane crashed seconds after taking off from Karachi for Khartoum. Four labourers on the ground were also killed.
It crashed into buildings under construction in the Dalmai neighbourhood, where the Pakistan Air Force and Navy have residential apartments and offices close to Jinnah International airport.
On November 5, a US-manufactured Beech 1900C also crashed after take off, killing all 21 people on board.
The aircraft was operated by local company JS Air and had been carrying staff from an Italian oil company to an oil field in Sindh.