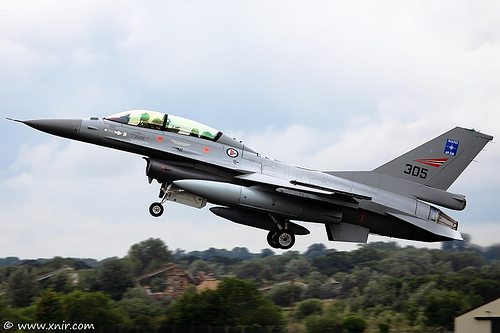 After a successful development program in Denmark for the pylon-based Missile Warning System (MWS) installation, the Royal Norwegian Air Force (RNoAF) has ordered a similar solution for their F-16s.
The solution is based on a derivative of the Terma developed Pylon Integrated Dispensing System (PIDS). Pylons on stations 3 and 7 are equipped with each three Missile Warning sensors, providing an almost spherical protection against missile attacks. This solution was tested already in 1998, when the European F-16 users and U.S. Air National Guard conducted a feasibility program to evaluate if this Missile Warner System installation could perform satisfactorily.
The conclusion was that the concept was very cost effective compared to a fuselage installation, and that the performance fulfilled the requirements. The Danish Air Force tasked Terma to develop the integration of the MWS hardware in the pylons and to develop system control software for the ALQ-213 Electronic Warfare Management System including display and 3D-Audio. The system is now installed and fully certified by the U.S. Air Force Seek Eagle Office on the F-16.
The MWS system selected by both Denmark and Norway is the Cassidian Electronics AAR-60(V)2 MILDS-F.
Mounting of the Missile Warning sensors in the weapons pylons offers important advantages: installation is done on pylons rather than on the aircraft structure, which reduces aircraft down time for modification considerably, fewer systems are needed because pylons can be rotated within the fleet.
The Terma EW Management system AN/ALQ-213(V) was already in the Norwegian F-16s and from its birth prepared for installation of a Missile Warning system. A new full color Advanced Threat Display (ATD) replaces the existing 1310 RWR display, and a Countermeasures Signals Processor (CSP) has been installed for correlation and threat declaration of signals from the six sensors.
By the RNoAF, this program is considered an important factor in keeping the F-16s combat ready for possible conflicts in coming years.
Terma develops products and systems for defense, civilian authorities, and security applications, including command and control systems, radar systems, self-protection systems for aircraft, space technology, and advanced aerostructures for the aircraft industry. The company has a total staff of 1,200 and realized 2010/11 revenues of MEUR 190. Terma is headquartered at Aarhus, Denmark, and maintains international subsidiaries and operations in The Netherlands, Germany, the U.S., and Singapore.