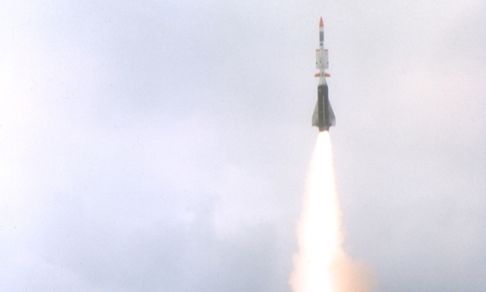 NATO wants to cooperate with Russia on a missile defence shield for Europe but the two sides should keep their systems separate, the Western alliance's chief said ahead of a meeting of military brass.
The former Cold War foes agreed at a landmark summit in Lisbon last November to explore the possibility of cooperating in the European missile defence system, but left the complex details of how it would work for later.
"For the first time NATO nations and Russia will be cooperating to defend themselves," NATO Secretary General Anders Fogh Rasmussen said in a video blog.
"I consider the cooperation on missile defence politically important for the development of the overall security relationship with Russia," he said.
Rasmussen expressed the 28-nation alliance's vision — apparently far from Moscow's — ahead of a meeting of the NATO-Russia Council in Brussels on January 26 at the level of ambassadors and military chiefs.
"Now together with Russia we will analyse how we can cooperate," he said. "The vision of the alliance is for two independent but coordinated systems working back to back."
He recalled that NATO's core Article 5 calls for the collective defence between alliance members only.
"And I assume that Russia as a strong and independent nation also wants to be fully in control ot its own defence systems," Rasmussen said.
The cooperation, he added, would be limited to swapping information to get a "bigger, wider picture of the skies above Europe" and "developing potential synergies between the two systems."
Russian President Dmitry Medvedev agreed at the November 19 summit, the first since the Russian-Georgian war of August 2008 soured relations with NATO, to examine a potential missile shield cooperation.
Medvedev at the time invoked the idea of "sectoral" defence, whereby for example Russia would handle missile threats coming from the southeast while NATO would be responsible for the southwest.
"There are grounds to unite our systems so that they work together, jointly solving the same task," General Nikolai Makarov, chief of staff of the Russian armed forces, said at the Lisbon summit.
"There should be one button," said Makarov, who according to Russia's ambassador to NATO Dmitry Rogozin will attend next week's meeting in Brussels.
The idea of linking up Russian and NATO radars and missile interceptors would be controversial within the alliance, which includes former Soviet states.
Lithuanian President Dalia Grybauskaite made her position clear in Lisbon, saying "NATO is NATO. It will never be a joint organisation."