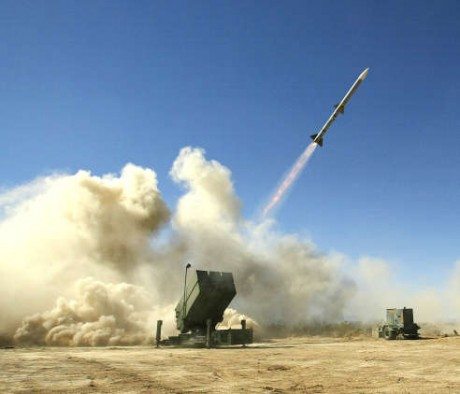 The Royal Norwegian Air Force conducted a successful tactical live-fire exercise of its National Advanced Surface-to-Air Missile System (NASAMS), a surface-launched Advanced Medium Range Air-to-Air Missile system, earlier this month at the Andoya Rocket Range in Northern Norway.
This annual live-fire exercise, called Silver Arrow, was attended by both Raytheon and KONGSBERG, along with several potential international customers.
"The conduct of our annual tactical live firing exercise is of greatest importance for the RNoAF GBAD community," said Lt. Col. Bjorn Stai, Royal Norwegian Air Force's (RNoAF) head of the Ground-based Air Defense branch.
"It serves as a test of the weapon system's operational status, and in addition, as a proof to the warfighter that NASAMS can detect, identify and destroy targets."
"NASAMS has been fielded by the RNoAF for more than a decade, and this successful test proves the capability of the system," said Sanjay Kapoor, vice president for Patriot Programs at Raytheon Integrated Defense Systems (IDS).
"We are proud to work alongside our partner KONGSBERG to provide this superior integrated air and missile defense capability to Norway and all other countries where NASAMS is operationally deployed."
This is the same NASAMS system that is currently protecting assets in the National Capitol Region.