The top-heavy cab of the Mine Resistant Ambush Protected Vehicle rocks back and forth, teetering dangerously and taunting the eight Marines and sailors strapped inside. Suddenly, it tips too far past its critical rollover point, sending the occupants into a rollover situation.
Without hesitation, the MRAP crew pulls two handles supporting the rear crew gunner's seat. He drops into their laps, and they hold him tight and scream, "ROLLOVER, ROLLOVER, ROLLOVER!" Mock foam ammo cans and sand swish around the cab.
After spinning two and a half revolutions, the cab is upside down. Disoriented occupants, now hanging upside down, work to unfasten their seatbelts and then assist the others. Maintaining communication, they unlock the combat locks on the doors and egress from the cab.
This is just one of the possible drills encountered during the MRAP Egress Trainer Rollover Student Course, which teaches Marines and sailors how to egress from an MRAP vehicle that's flipped on its side or upside down.
"The MET saves lives," said David Polk, the MET's instructor/operator/maintainer with contractor MPRI. "It teaches the Marines to react without thinking."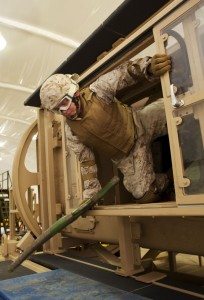 Measuring in at 35 feet long, 25 feet wide, 12 feet high and weighing a staggering 34,000 pounds, the MET is a Cougar variant vehicle rollover training simulator. It is located alongside the Humvee Egress Assistance Trainer at Boondocker Training Area on base.
Any Marines or sailors deploying with MRAPs are required to complete training in the MET, Polk said.
"I think this training is crucial to deploying Marines," said Pfc. Christopher Simpson, an administrative clerk with Headquarters Company, Combat Logistics Battalion 3. "No matter if it's deployment time or not, it's good to be ahead of the game."
Simpson participated in the rollover training for the first time March 24. He completed the course with other CLB-3 Marines and sailors to fulfill predeployment requirements for a fall deployment in support of Operation Enduring Freedom.
After a half-hour class outlining preventative measures, rollover factors, egress and safety procedures, eight Marines or sailors clad in flak jackets, Kevlar helmets and eye protection enter the MET with simulated weapons.
They undergo two drills, learning to egress at both 90- and 180-degree angles. Microphones and cameras in the cab allow the instructor/operators to monitor activity inside the cab. Unsuccessful or sloppy egresses warrant additional runs.
Cpl. Brandon Williams, training and schools noncommissioned officer, Headquarters Co., CLB-3, said communication and teamwork are key in ensuring the occupants egress safely.
"Most of the course is common sense," Williams said. "You have to make the training real and repeat it. Practice is what saves lives."
Encouraging statistics have solidified the training's value. According to recent information from the Combat Readiness Safety Center database, serious injuries to gunners have dropped approximately 80 percent since the implementation of mandatory training on egress trainers.
"I don't think the rolling motion is as aggressive as a real rollover would be," said Sgt. Lucas Hartman, combat operations center watch chief, Headquarters Co., CLB-3, following a successful drill. "But it helps with knowing how to get out once the rollover's over and done with."
Units may sign up for the course through the Range Facility Management Support System within their training and operations sections. Approximately 100-120 Marines and sailors can complete the class per day.
Marine Corps Base Hawaii is one of three Marine Corps installations with a MET, along with Marine Corps Air Ground Combat Center Twentynine Palms, Calif., and Camp Lejeune, N.C.