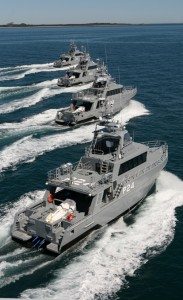 Austal has completed its first European defence contract following the commissioning of four 21.2 metre inshore patrol craft for the Armed Forces of Malta (AFM).
The aluminium vessels have a maximum speed of more than 26 knots and will assist the AFM with surveillance and border protection throughout Malta's coastal waters.
Speaking at the historic commissioning ceremony held on March 18, Maltese Prime Minister Lawrence Gonzi described the vessels as "the pride of the Maritime Squadron's fleet."
"The modern and cutting-edge technology coupled with the best accommodation facilities will also provide a better working environment for the crew," Prime Minister Gonzi said. "The patrol boats were purposely built and customised in line with the Squadron's requirements."
Austal was awarded the contract in February 2009 following a competitive international tender process, which called for a proven design that addressed specific AFM requirements. The project was co-financed by the European Union's External Border's Fund.
AFM Lieutenant Colonel Martin Sammut commended Austal for their willingness to ensure client satisfaction.
"Austal's professionalism has made it possible for all four vessels to be completed on time. Furthermore their continued assistance is testimony of their intent to seal this successful partnership," Lt Col Sammut said.
The four vessels were built at Austal's Western Australian facility and delivered to Malta via liftship.
Austal Director – Sales and Australian Operations, Andrew Bellamy said the successful delivery of Austal's first European defence contract was a proud achievement.
"We are pleased to deliver these state-of-the-art vessels and look forward to them serving the AFM for many years to come," Mr Bellamy said. "This project illustrates Austal's ability to deliver quality customised solutions within timeframes that would be beyond most shipbuilders, including those offering standardised production designs."
Austal also recently delivered six 30 metre patrol boats for the Trinidad and Tobago Coast Guard, following deliveries to Yemen, Kuwait and the Royal Australian Navy. Work on the second of two 127 metre US Navy Littoral Combat Ships (LCS) continues at Austal's US facility.