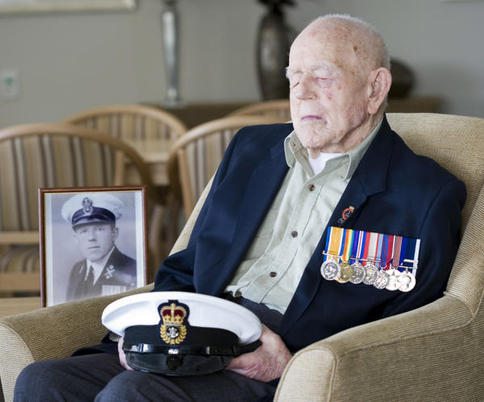 Briton Claude Choules, the final World War I combat veteran, has died aged 110 in Australia, the last of more than 70 million military personnel mobilised during the conflict.
Blind and almost totally deaf, Choules, nicknamed "Chuckles", died at his hostel home in Perth overnight.
"I can confirm that he has passed away. His family said he passed away at midnight this morning," Australian Defence Force spokesman Gary Booth, who is close to the family, told AFP.
"It's too early to talk about funeral arrangements."
Booth said it was the end of an era.
"He was a living part of history and with his death, it's gone. There is no more link with active service personnel.
"It's hard to imagine all the things he's seen in his life — two World Wars, horse and cart to man on the moon."
After American Frank Buckles died earlier this year, Choules was declared the last known combat survivor of the Great War that left 37 million soldiers dead or wounded.
The only other surviving veteran of World War I is said to be Britain's Florence Green, who served with the Royal Air Force in a non-combat role and is now aged 110.
Born in England, Choules served with Britain's Royal Navy on board the HMS Impregnable in 1916 at the age of 15 and witnessed the scuttling of the German fleet at Scapa Flow.
He moved to Australia after the war and was seconded to the Royal Australian Navy in 1926.
As the acting torpedo officer at Fremantle in Western Australia in World War II, he disposed of the first German mine to wash up on Australian soil during the conflict.
He remained with the navy after the war and spent his final working years in the crayfishing industry at Safety Bay, south of Perth.
Choules had two daughters, a son, 13 grandchildren, 26 great-grandchildren and two great-great-grandchildren.