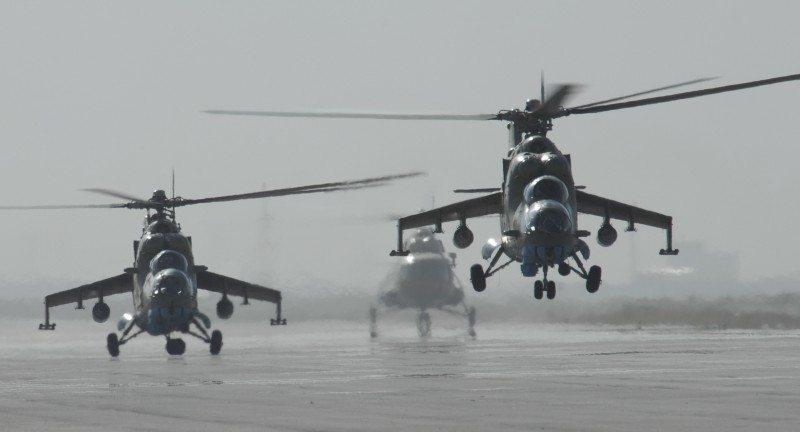 Russia eyes a record arms deal and rare agreement over Syria on Tuesday when it hosts Iraqi Prime Minister Nuri al-Maliki for the first time in almost four years.
Maliki arrived in Moscow for three days of discussions Monday that media reports speculated would conclude with the signing of a $4.3 billion arms deal that makes Russia Iraq's biggest supplier after the United States.
But that contract and talks about new energy tie-ups were likely to create only the background to a strong common stance against any form of outside pressure on Syrian strongman Bashar al-Assad to leave power.
"The stance of Iraq calls for finding a political solution to the Syrian crisis, and it is opposed to violence … for solving the crisis," Maliki said in a recent television interview.
"Iraq has not intervened in Syria on behalf of the regime's interests, or for the interests of the armed opposition."
Talks set for Wednesday will thus offer President Vladimir Putin a rare chance to showcase a key regional power as an ally of his refusal to press for Assad's resignation or let the opposition gain the upper hand after 19 months of fighting.
Russia views Syria as its last major Middle East outpost and has most recently refused to condemned its volleys of fire into Turkish territory that have edged the two sides ever closer to an all-out war.
Meanwhile, Maliki also intends to use his visit to wean off his nation's overwhelming dependence on US weapons and technology.
A noted military analyst and the Vedomosti business daily both reported that the $4.3 billion negotiated arms agreement involves 30 Mi-28 attack helicopters and 42 Pantsir-S1 surface-to-air missile systems.
Further discussions are reportedly underway for Iraq's eventual acquisition of MiG-29 jets and heavy armoured vehicles along with other weaponry.
Vedomosti said the deal would be Russia's largest since 2006 and a symbol of its return to the Middle East arms markets after years of decline caused by the surging US presence.
Maliki is travelling with Iraq's oil and trade minister as well as the chief of its investment commission — two officials in a perfect position to approve new investments from Russia's state energy holdings Rosneft and Gazprom.
Both Russian giants enjoyed lucrative deals in the country before those were restructured following the 2003 fall of the Moscow-backed Saddam Hussein regime.
Both have expressed interest in new fields in the region that could compensate for gradually diminishing production at some of the two companies' most important but oldest fields.