Launched four years ago by 20 participating nations, the European Air Transport Fleet (EATF) partnership has now entered its second phase. The initiative is expected to grow based on the building blocks that have already been put in place.
With an objective to address the airlift shortfall in the European Union, the European Air Transport Fleet (EATF) partnership – initiated in 2011 as a European Defence Agency (EDA) program – aims at developing cost-effective solutions to optimize the use of existing and future national fleets of military transport aircraft in Europe. A three-phase strategy has been agreed upon to achieve that ambitious objective.
"The first phase of the EATF strategy, which ran from 2012 to 2014, has now effectively come to an end", Laurent Donnet, EDA Project Manager Airlift & Air-to-Air Refueling, explains. "This allowed us to lay out the partnership's foundations with a number of tangible deliverable and activities such as the harmonization of diplomatic clearances mechanisms and procedures, but also live exercises and training events", he adds.
Growing interest
A testimony to this successful first phase, the European Air Transport Training (EATT) events organised in Europe keep gathering more and more participants, with 14 aircraft and 30 crews expected to join the next edition in June 2015. This year, three editions of the European Advanced Airlift Tactics Training Course (EAATTC) will also take place, as well as three European Air Transport Instructor Courses and the annual European Air Transport Symposium.
EATF Phase 2, expected to run for three years, will see a strengthening of these activities through several initiatives, such as the development of a permanent multinational training center in Zaragoza (Spain) expected to reach its initial operational capability by mid-2016. Meanwhile, harmonization of rules, regulations, tactics, techniques and procedures will continue. User groups developed around aircraft such as the A400M, A330 MRTT, CN295 or KC-390 will also be explored, based on a model currently being tested with the European C-27J Spartan community of users. All these efforts will be pursued in close cooperation with the European Air Transport Command (EATC) in Eindhoven, which has become the major center of airlift expertise in Europe.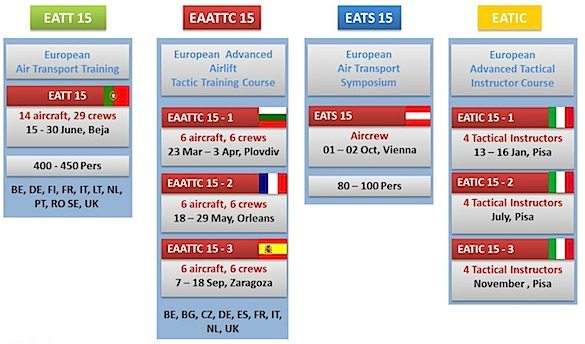 "The EATF partnership hit the nail on the head", Laurent Donnet stresses. "European airlift is being trained like never before and interoperability between Member States keeps growing", he adds. Ultimately, a third EATF phase is expected to run from 2017 to 2021. It will seek deeper cooperation between participating nations with regards to new capabilities, as well as increased support for the creation and implementation of innovative and tangible solutions.