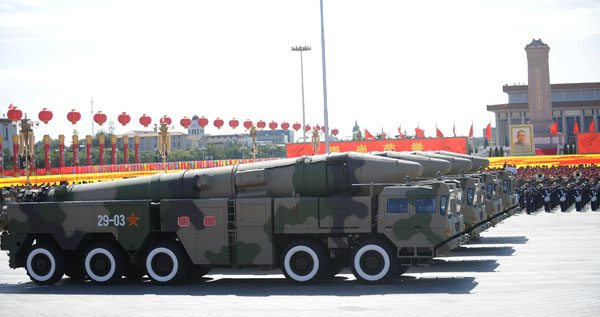 China on Thursday strongly denied reports that it would consider a pre-emptive nuclear strike if it had no other way to defend itself against a nuclear-armed state — a move that would be a shift in policy.
"Since the very first day that China possessed nuclear weapons, the Chinese government made a solemn pledge to never be the first to use nuclear weapons at any time under any circumstances," foreign ministry spokesman Hong Lei said.
"China has been living up to this promise. The relevant report is totally groundless."
Japan's Kyodo News quoted Chinese documents as saying that the military would "adjust" this policy if another nuclear state conducted air strikes against Chinese targets "with absolutely superior conventional weapons."
US military experts have argued since around 2007 that Beijing may have shown signs of altering its pledge not to use nuclear weapons first, the report said.
But in a sign of warming ties as the region contends with the threat of a nuclear-armed North Korea, US Defence Secretary Robert Gates is scheduled to arrive in China on Sunday.
Gates will visit at the invitation of his Chinese counterpart, one year after Beijing broke off military relations with Washington in protest against a multibillion-dollar US arms package for rival Taiwan.