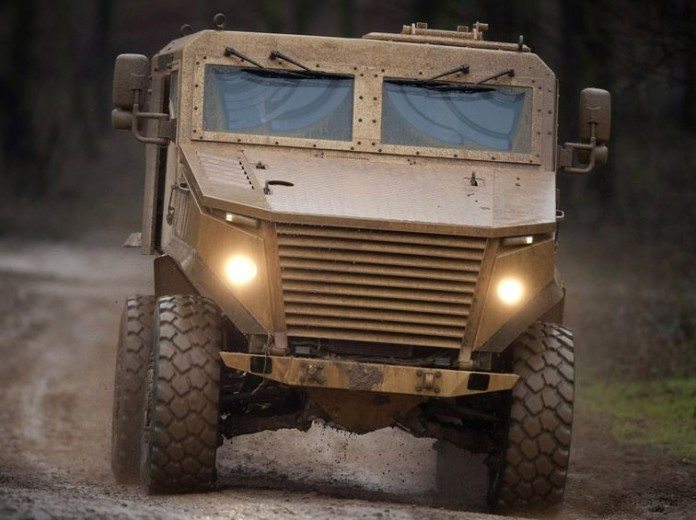 The Ministry of Defence is set to announce a £50 million contract for 50 new Foxhound light patrol vehicles in Afghanistan. Defence Minister Philip Dunne is expected to confirm details of the new contract this afternoon during a visit to the British company that makes the vehicles – General Dynamics: Force Protection (GD:FP) Spares Facility in Telford, Shropshire.
The Foxhound, introduced to offer unprecedented levels of blast protection, replaced the Army's Snatch Land Rover, which proved highly vulnerable to roadside bombs used by insurgents in Iraq and Afghanistan.
The Foxhound has enhancements including a V-shaped hull to give protection against the bombs which have been a common tactic of Taliban fighters in Afghanistan. The Army's most agile protected vehicle, it uses cutting-edge Formula 1 technology to provide unparalleled protection for its weight and class. It can reach speeds of up to 80mph and drive away from an IED) strike on just three wheels, while its engine is so advanced it can be changed in 30 minutes and put back on the road.
The first Foxhounds were deployed to Afghanistan earlier this year and are now being used by soldiers who are mentoring and partnering with the Afghan National Security Force. Today's announcement is part of an overall investment of more than £300 million by the MOD for Foxhounds since 2010, and will bring the fleet to more than 370 vehicles, to be used in Afghanistan as well as in future operations.
Speaking in September, when Foxhound was first operational in Afghanistan, chief of staff for the Bastion Force Protection Wing Squadron Leader Jim Stewart, said: "Foxhound is an enormous leap forward in capability; the off-road mobility, enhanced protection and night-vision systems that it offers to the troops on the ground are unmatched in a vehicle of this size."