PARIS: Specifically engineered for the way troops fight today, BAE Systems' Ultra Lightweight Warrior (ULW) system of innovative body armor is designed to offer adaptable protection and dramatic weight savings for soldiers.
The ULW system, shown for the first time at the Eurosatory defence exhibition in Paris, draws heavily from lessons learned in current global conflicts.
"Real life combat in Afghanistan and Iraq helped to shape ULW's development," said Joe Coltman, Vice President with BAE Systems' Security & Survivability business. "Over the years, as new threats have emerged, a soldier's protection level has likewise had to increase, translating into more and heavier equipment. The ULW system provides the scalable, modular protection that soldiers require, but up to a 35 percent weight savings when measured against comparable soldier equipment," added Coltman.
ULW focuses on five key product areas including helmet, vest/soft body armor, armor plates, load carrying equipment, and an integrated power supply. While each separate piece of equipment offers distinct features and benefits, such as a rechargeable, integrated power supply strategically designed to be worn within the ballistic vest, and a quick-release mechanism that provides faster actuation and easier assembly, the real value associated with ULW is in how the individual pieces work together for the soldier.
"What ULW provides to the armed forces is options," said Sean Martin, Business Development Director for BAE Systems' Personnel Protection Systems business. "ULW is a flexible, modular soldier equipment platform that can be modified a number of ways, and provides multiple mission-specific options. Its ergonomic design features new, lighter weight advanced materials, which provide greater comfort and needed mobility without sacrificing protection."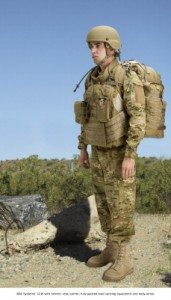 ULW is completely customizable and can be tailored to suit virtually any requirement for soldier equipment.
"For years, troops around the world have been asking, 'when will we have lighter body armor?'" added Coltman. "With ULW, we think we've got the answer. It's the most advanced soldier equipment system in the industry today, delivering the most options to the armed forces while still providing the right level of protection for any given mission might require."
ULW is scheduled for rigorous user trials in the United States.
Because of its global application, BAE Systems is unveiling ULW simultaneously at dual venues — in Europe, at Eurosatory, and in North America, at the Special Operations Forces Industry Conference (SOFIC).
BAE Systems' Security & Survivability business is a leader in protection, security and survivability systems. It is a technology leader in lightweight materials, including composites, ceramic and transparent armor technologies; integrated vehicle armor systems; vehicle and aircraft survivability components and accessories; and soldier protection equipment, sold to the U.S. government, other governments and other defense contractors.
BAE Systems is a global defence, security and aerospace company with approximately 107,000 employees worldwide. The Company delivers a full range of products and services for air, land and naval forces, as well as advanced electronics, security, information technology solutions and customer support services. In 2009 BAE Systems reported sales of £22.4 billion (US$ 36.2 billion).