Five teams of super-smart robots have safely returned to base after carrying out a daunting mission in the finale of the Multi Autonomous Ground-robotic International Challenge (MAGIC), which concluded at the Royal Adelaide Showgrounds today.
Parliamentary Secretary for Defence, Senator David Feeney, said the 18-month long robot competition culminated in an impressive display of autonomous vehicle systems with next-generation technologies.
"The judges now face the difficult task of determining the top three teams that have demonstrated the most effective capabilities during the MAGIC event this week.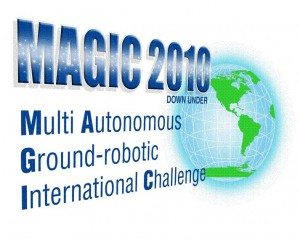 "To determine the winners, the judges must compare the performance of each team against predetermined criteria," Senator Feeney said.
During the Grand Final event, each of the five teams fielded three or more robots and completed a complex task involving mapping and identifying threats while demonstrating a high level of self-directed cooperation among the vehicles.
The five competing teams were RASR (Reconnaissance and Autonomy for Small Robots), Team Michigan and the University of Pennsylvania from the United States, Cappadocia from Turkey, and the Australian team MAGICian, comprising the University of Western Australia and Flinders University.
The teams also participated in a non-competitive demonstration event to showcase the capabilities of their robots before an invited audience of VIPs.
"The competing vehicles demonstrated new advances in robotics technology, which are very promising for their potential deployment in combat zones where they can replace our troops in carrying out life-threatening tasks," Senator Feeney said.
The three top teams from the MAGIC event will be announced next week at the Land Warfare Conference. They will receive research grants of US$750,000, US$250,000 and US$100,000 respectively.
The MAGIC 2010 initiative is a joint project between Australia's Defence Science & Technology Organisation (DSTO) and the US Department of Defense led by the Research, Development & Engineering Command of the US Army. Its aim is to accelerate the development of next-generation autonomous robotic systems that can operate autonomously on the future battlefield, keeping soldiers out of harm's way.