Antonov Company and Тaqnia Aeronautics of the Kingdom of Saudi Arabia signed a Memorandum of Understanding. This document confirms the parties' intention to deliver 30 multipurpose AN-178 aircraft to Royal Saudi Air Force (RSAF).
According to Retired Major General Ali Mohammed Al−Ghamdi, President of Тaqnia Aeronautics, the "Signing of this Memorandum is the next significant step in development of our cooperation. We have signed the documents on interaction within the programme of the AN-132 new transport and further promotion of the AN-148 special-purpose versions.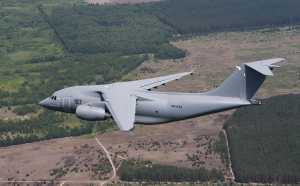 "We chose the AN-178 taking into account the good characteristics of this aircraft. Its price and low operational costs are important advantages of this aircraft in comparison with other airplanes of this class.
"Besides, we will realize joint marketing policy on promotion of the AN-178 into the markets of other countries of Middle East. In the future we plan cooperative production of this aircraft."
Oleksandr Kotsiuba, First Vice President of Antonov Company, said: "This event became one more confirmation of mutual aspiration of Ukraine and Saudi Arabia in development of strategic partnership in the field of aircraft industry.
"Signing of this Memorandum verifies that the AN−178 is a modern, reliable and effective airplane, which is requested by customers. We are obliged to our partners and ready to fulfill our obligations in accordance with the signed agreements."