A contingent of Army AH-64 Apache helicopters, delivered by two Air Mobility Command C-5M Super Galaxies, arrived here Feb. 22 in support of Operation Atlantic Resolve.
OAR is a tangible demonstration of the United States' commitment to maintaining peace and stability in the region, while providing reassurance to NATO allies and regional partners. Through multinational training and exercises, OAR highlights the flexibility of U.S. ground and air forces to rapidly respond to contingencies alongside regional partners.
The apaches, from the 1st Battalion, 501st Aviation Regiment at Fort Bliss, Texas, arrived as part of the 10th Combat Aviation Brigade. This is the first deployment of an aviation brigade in support of OAR under the Regionally Aligned Forces concept, an Army unit tailored to provide flexible, responsive and continuously available support worldwide.
"This operation epitomizes the jointness of our military and how we work together," said Army Brig. Gen. Phillip S. Jolly, the Mobilization and Reserve Affairs Director deputy commanding general. "You have the world's greatest Air Force enabling the Army to do our mission, which is to assure security to our European allies and friends."
In total, 85 aircraft, including CH-47 Chinooks, UH-60 Black Hawks, AH-64s and medevac helicopters, as well as about 2,200 Soldiers, comprise the 10th CAB deployment throughout the European theater.
Maj. Gen. Timothy Zadalis, the U.S. Air Forces in Europe and Air Forces Africa vice commander, noted the historic nature of the joint venture with this year marking the 70th anniversary of a U.S. Air Force presence in Europe.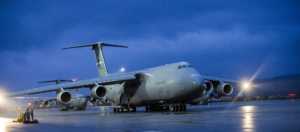 "This is a 70-year commitment we have had to Europe and our partner nations and all of us see no change in that," Zadalis said. "It's a relationship built in trust, common values and our belief in freedom. The aircraft that is behind us and the helicopters they brought in, is a demonstration to that commitment."
Zadalis added that there was also a significant training aspect to the U.S. Air Force and Army crews working together on the helicopter transport and delivery.
The successful helicopter arrival, Zadalis said, "prove[s] the point, that the United States Army and the United States Air Force is ready at a moment's notice, to deploy anywhere around the world. It's where the Army needs them that the United States Air Force puts them."
USAFE and AMC directly support the joint and multi-national warfighting environment with air superiority, direct air operations, global air transportation and capabilities that are essential to supporting the warfighters on the ground.
One of the largest aircraft in the world, and the largest lifter in the Air Force inventory, the AMC C-5M provided the necessary capabilities required to bring the Apaches to Germany. Capable of carrying six Apache helicopters, two M1A Abrams tanks or 250,000 pounds of relief supplies, the Galaxy is uniquely equipped to carry bulky combat equipment and oversized cargo in a rapid global environment.
"It's a tremendous aircraft and it's crewed by the brightest and smartest young men and women our country has to offer," Zadalis said. "The beautiful thing about the C-5M is that one day you could deliver combat airpower … and the next day you could be delivering humanitarian airlift around the world. It's part of what we do. It's part of our commitment to Europe, it's part of our commitment to NATO, and it's part of our commitment to freedom."