Soldiers, from two U.S. Army Explosive Ordnance Disposal, or EOD, companies, eliminated more than 75,000 pounds of explosives during operations in New Mexico over the past month.
The 734th EOD Company demolished 15,000 pounds of explosives at White Sands Missile Range, New Mexico, and the 741st EOD Company destroyed 60,000 pounds of ordnance at New Mexico Tech's Energetic Materials Research Testing Center in Socorro, New Mexico.
The EOD companies are assigned to the 20th Chemical, Biological, Radiological, Nuclear, Explosives, or CBRNE, Command, the only Defense Department formation that combats CBRNE threats throughout the globe.
Based on 19 posts in 16 states, 20th CBRNE Soldiers and civilians serve with joint, interagency and allied partners worldwide to combat threats ranging from weapons of mass destruction to improvised explosive devices, or IEDs.
Since the command was activated in 2004, 20th CBRNE EOD troops have defeated more than 50,000 IEDs in Iraq and Afghanistan.
As part of the 20th CBRNE Command's 71st EOD Group and 84th EOD Battalion, the two EOD companies cover more than 992,000 acres on Fort Bliss, Texas, and White Sands Missile Range, New Mexico.
Stationed on Fort Bliss, the companies also conduct defense support to civil authority missions with law enforcement agencies in New Mexico, Arizona and the nine western most counties of Texas.
"My teams were afforded the opportunity to practice disposal procedures on an array of missiles, rocket motors and warheads," said Capt. Nathan S. Vail, commander of the 734th EOD Company.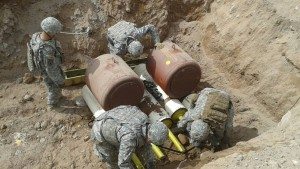 Vail said the mission on White Sands Missile Range gave his EOD technicians the chance to learn more about missiles and their components.
"We don't frequently deal with missiles at Fort Bliss beyond the occasional response to a misfired TOW [tube-launched, optically-tracked, wire-guided] missile," said Vail, a native of Alta Loma, California, who served in Afghanistan. "The ordnance we trained with at White Sands Missile Range was much larger and the demolition procedures were more in depth."
Vail said that safety was the top priority for his five EOD teams involved in the mission.
"We typically deal with lesser quantities and much smaller items," Vail said. "The scale of the demolition training required a lot of coordination to ensure proper use of material handling equipment as well as safety precautions, such as fire and medical emergency services on standby."
Capt. Sean R. Ashby, operations officer for the 741st EOD Company, said the demolition mission at the Energetic Materials Research Testing Center came about by a call from the Navy's EOD Detachment in Dahlgren, Virginia.
Ashby called the Energetic Materials Research Testing Center one of the nation's premier explosive's development, research, and testing facilities.
"There was an excess of ordnance items that had been tested on or were waiting to be tested," Ashby said. "Some items had been there for so long or had been experimented on multiple times that they became degraded and dangerous."
"We demolished 252 ordnance items," said Ashby, a native of Upper Marlboro, Maryland, who has deployed to Afghanistan and conducted a Humanitarian Mine Action mission in Tajikistan.
Ashby said the operation made his EOD Soldiers better by exposing them to a wide variety of explosives.
"Operations like this make our unit more combat effective by giving EOD Soldiers exposure to real-world, hands-on training on ordnance items that may be seen on the battlefield," Ashby said. "IEDs are dangerous but there are still plenty of ordnance items that can kill you if not handled properly."
"Not only do these operations give EOD Soldiers training on ordnance identification but they also give them experience that they can later call upon for large-scale demolition operations," Ashby said.
Brig. Gen. JB Burton, commanding general of the 20th CBRNE Command, said the missions were another example of the real-world operations the Soldiers and civilians conduct throughout the globe daily.
"Our 20th CBRNE Command Soldiers and civilians not only support military operations around the world but they also safeguard the homeland from CBRNE threats," said Burton, a native of Tullahoma, Tennessee. "They are the absolute best at what they do."