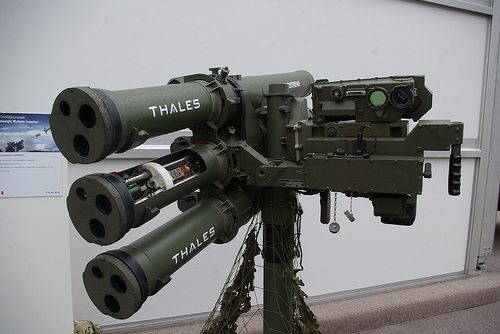 Thales UK has signed a contract to supply the Starstreak air defence missile system to the Royal Thai Army.
The deal was welcomed by the British Prime Minister, the Rt. Hon. David Cameron, MP, during his meeting with the Prime Minister of the Kingdom of Thailand, Her Excellency Ms. Yingluck Shinawatra.
The system comprises of Starstreak missiles – the world's fastest very-short-range air defence (VSHORAD) missile – and Lightweight Multiple Launchers (LML). The LML tripod-based system allows swift deployment of Starstreak missiles to deal with attacks from low-level fighter aircraft, Unmanned Air Vehicles (UAVs) and attack helicopters. The system will be a key part of the modernising of the air defence forces protecting the Kingdom of Thailand.
The multi-million pound contract follows on from the successful deployment of the Starstreak and LML system at the London 2012 Olympics, where it formed a core element of the British Army's air defence capability. The high-profile role of Starstreak in the air security plan for London 2012 has led to increased interest in the system around the world.
Alex Cresswell, Vice President for Land Defence at Thales UK, said: "Starstreak is the leading VSHORAD system in the world today, enabling nations to protect key assets against both emerging and established threats. We are delighted by the selection of this system by the Royal Thai Army and will work with our customer to ensure a smooth delivery into-service and through life support."
Starstreak is the world's fastest very-short-range air defence (VSHORAD) missile. Its peak velocity of over Mach 3 means it can cover a kilometre in under a second. Targeting and full control of the three dart missiles is maintained by the operator, via the use of laser beam guidance, throughout the entire engagement thus increasing positive target identification and significantly reducing the risk of collateral damage.
The system can be deployed from a variety of vehicle platforms such as RapidRanger, a highly-mobile lightweight platform with the options of both command and control interfaces and early warning, or from the tripod-based Lightweight Multiple Launcher.
Cost of ownership is low as the missiles require no maintenance through life. The missiles have a shelf life of 15 years and high reliability is assured, meeting strict and exacting qualification standards including Insensitive Munitions compliance.
The system has been in service in UK since 1995 and will remain in-service until post-2025.
Thales is a global technology leader for the defence and security and the aerospace and transport markets. In 2011 the company generated revenues of £11.4bn (€13bn), with 67,000 employees in 56 countries. With its 22,500 engineers and researchers, Thales has a unique capability to design, develop and deploy equipment, systems and services that meet the most complex security requirements. Thales has an exceptional international footprint, with operations around the world working with customers and local partners.