Singapore Minister for Defence Dr Ng Eng Hen has announced the acquisition of MBDA Aster 30 medium-range air-defense missiles in a reply to a question in Parliament. The Aster will eplace the I-Hawks currently in service.
The statement also described how the Aster 30s would fit into the island-state's layered air defense.
Ng also said Singapore would upgrade its F-16 fighters and evaluate the F-35 as a potential replacement fighter.
This is the full text of his statement:
Reply by Minister for Defence Dr Ng Eng Hen to Parliamentary Question on Relocation of Paya Lebar Air Base
Madam Speaker, the member Mr Lim Wee Kiak has asked a highly relevant question as the relocation of Paya Lebar Airbase (PLAB) must never compromise the ability of the Republic of Singapore Air Force (RSAF) to safeguard Singapore's security and sovereignty.
Indeed, this was the over-riding and primary consideration when MINDEF and the SAF studied the possibility of relocating PLAB. We were mindful that the current capabilities of the RSAF were achieved over four decades and remain critical to protect a small country like Singapore which lacks strategic depth.
The RSAF's superior air defence and strike capabilities have been built up through prudent and steady investments of resources and land allocation for our defence needs. And over the years, we have acquired, adapted and developed advanced technologies and state-of-the-art platforms to provide more accurate and timely early warning and situational awareness of potential threats. We will continue to invest in these capabilities.
In particular, the RSAF is putting into place a state-of-art multi-layered Island Air Defence System to provide a comprehensive shield protecting Singapore against airborne threats. This includes at the outer perimeter, our existing Gulfstream-550 Airborne Early Warning aircraft, which replaced our E2C in 2012, and significantly enhanced our early warning and air defence capabilities through its better endurance and longer range of detection.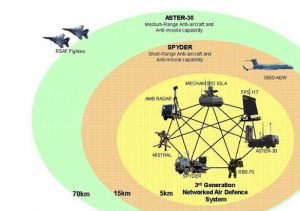 I would like to announce today that the SAF will also be acquiring the ASTER-30 Surface-to-Air Missile System. This missile defence system against airborne threats is used by advanced militaries such as France and Italy. The ASTER-30's capabilities are many times more potent than our current I-HAWK ground-based air defence system. The ASTER will allow us to engage multiple threats simultaneously and from a longer distance. It will complement the SPYDER, which we have already operationalised – it is a mobile, shorter-range, quick reaction ground-based air defence system – and together, they will provide a layered air defence shield.
The RSAF will also be looking to upgrade its fighter fleet. We plan to upgrade our F-16s to modernise their avionics and extend their lifespan. Our F-15SGs were recently acquired and have proven themselves in recent multilateral military exercises with advanced Air Forces like those from the US and Australia during Exercise Cope Tiger and Exercise Pitch Black.
Also, as announced at the Committee of Supply in March this year, we are evaluating the suitability of advanced multi-role F-35 Joint Strike Fighters in meeting our long-term security needs to further modernise our fighter fleet and replace our older aircraft.
These advanced capabilities that I have mentioned have been built up through steady defence investments over the years, and have now provided the confidence for MINDEF and the SAF to consider relocating PLAB in the long term to meet national development needs.
In 2011, MINDEF and the SAF conducted a thorough assessment of our capabilities and security threats for the long term. We satisfied ourselves that our security would not be compromised and that relocation of PLAB could take place after existing airbases at Changi East (CAB) and Tengah (TAB) have been expanded to accommodate relocated assets and facilities.
The expansion of Changi Air Base and Tengah Air Base will be necessary to house relocated fighter and support squadrons as well as accommodate facilities currently housed in PLAB. As members would recognise, this undertaking is complex but the RSAF will use this opportunity to build anew through innovative operational concepts and advanced airbase designs, and this will enhance the effectiveness and resilience of our air bases.
Newly expanded and improved airbases together with advanced fighter fleets protected by a multi-layered air defence shield will ensure that the RSAF maintains its deterrent edge and continues to be an effective and formidable Air Force.
PLAB's relocation will be a long-term and complex undertaking. MINDEF will be working closely with MND on the detailed planning and implementation of the relocation over the next two decades. Thank you.