Thread Starter

Thread Starter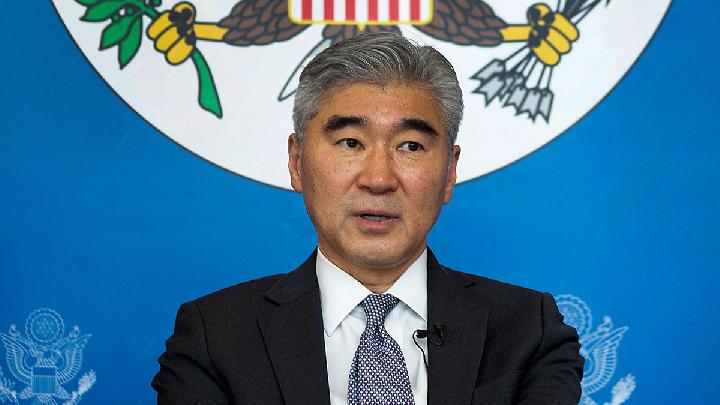 Wawancara dengan Duta Besar Amerika Serikat yang baru, Sung Y. Kim. Ia lahir di Seoul dari orang tua Korea Selatan. Ia paham soal Asia karena karier diplomatiknya ia habiskan di kawasan tersebut. Ini adalah wawancara pertamanya dengan media sejak ia tiba di Jakarta pada Juni 2021. Membicarakan...
majalah.tempo.co
The Interview article actually already from mid of last month publication. I'm not too aware on this, only after I read in local forums which also just put it. Basically this interview with current US ambassador taking on the scope of present and future co-op between US and Indonesia.
There's section in the article where he talk on defense co-op, and he talk that so far the equipment that being discussed is F-16 and AH-64. Now this create some commotion in local forums since they're being lead by some local analyst/Industry Insiders and media, that Prabowo's already in advance discussion for F-15EX and heavier multirole helicopters like CH-47 and S-70i.
Now this interview with US Ambassador, and for me I do tend to believe it more than just some Analyst (especially the Twitter guy), that told time to time no additional batch of AH-64 in discussion or no hope for F-16. As ambassador, this interview basically talk with US point man in Indonesia. This means what he talk is basically US position.
At my previous post above I already put that second batch of AH-64E as Penerbad wish list. The ambassador only mention two assets, doesn't mean there's no other potential assets being discussed. However those two actually the ones that being discussed in more advance stage.
Perhaps this's what Boeing talk on their opportunity in Indonesia defense market, and perhaps why LM seems still confidence with F-16 for Indonesia. For me, as I have mentioned before, I don't see with current financing line ceiling being proposed by 'finance' on this term, there're rooms for both Rafale and F-15. It's either Rafale with F-16 and TA/FA-50 or F-15 with F-16 and TA/FA-50.
Also I don't see TNI-AU has enough annual budget to support operational costs of both Rafale and F-15E. Off course it can change if this administration or next one want to double their annual budget. However despite the increasing trend, I don't see they're going to have capabilities and will to increase the annual budget significantly. It's more on step by step increasing trend.
The interview also talking about financing Defense assets with foreign loan. Well off course that kind of question fall in to Tempo Agenda. Tempo always in line with NGO's, which questioning that (or questions every defense projects). Those NGO's should done their research back even into Soeharto era. Financing procurement using foreign credit line already happened long time ago. As I've put in few of my post sometime ago, it's common practice in trade commercially including for defense items.
How far is the process?

The Foreign Military Sales process has already started for several items , including fighter aircraft and helicopters. The process went smoothly. I believe the American company offers the best equipment. Given the depth of the relationship between the two militaries, I think it makes sense that the Indonesian military would opt for American equipment.

What types of fighter planes and helicopters did the Indonesian government buy?

As far as I'm concerned, the F16 and Apache helicopters are one of the items .
I cut the section of that interview in here, in case some of you that try the link, can't get enter the whole article.
Last edited: