Thread Starter

Thread Starter
On the other hand the size and weight is very similar to the CH-4B and MQ-1B, but i can not believe that Indonesia just hacked into the computersystems of CASC and General Atomics.
Seems more likely the development of this UAV either used Turkish or other Euro sources, rather than China moreover US. Considering many defense SOE sources their tech with Euro sources.
However the performance of CH-4 I believe will become a bentchmark considering it's the most capable UAV in TNI-AU inventories. The other MALE UAV that could be the bentchmark is Turkish ANKA. However no public information lately on how far the scope of DI co-op with Turkish ANKA manufacturer (which before DI officials talk publicly). So it's remain on area of rumours.
I suspect the SOE consortium on this project will tone down any involvement on foreign tech sources. Just at the time when DI predecessor IPTN build N250. I remember even when N250 being launch, all foreign 'advisors' told to not come to ceremony. After all those SOE politically try to paint this as much as possible as pure local tech based. The stamp of 'Karya Anak Bangsa' is very important for them. It's politically important to stamp is as Indonesian Creation.
Meanwhile Kris FB shown picture of more CH-4 arriving in TNI-AU inventory. Shown that seems so far TNI-AU still quite satisfied with this China made UAV. Something bit rare considering many TNI sources that shown dissatisfaction with China made military asset.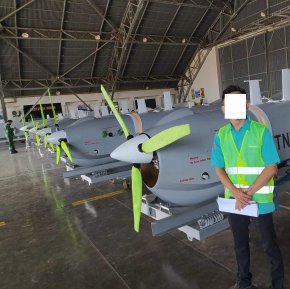 Last edited: