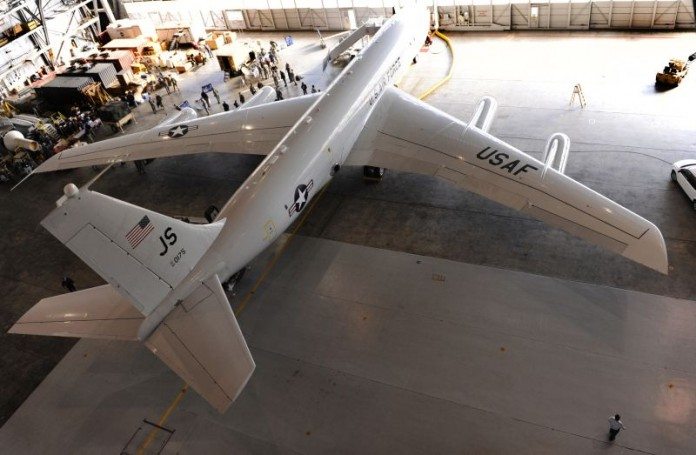 During November, Team Joint STARS epanded their mission by flying in five unified combatant commands within 13 days.
The Homeland Defense, Counter Terrorism, Counter Insurgency, and Intelligence Surveillance and Reconnaissance missions-strategically planned at the national level-served customers in all military branches with the Coast Guard, law enforcement agencies, and coalition partners.
"Flying this many operational missions in such a short time period is not the norm," said Col. Dean Worley, commander, 461st Air Control Wing. "This combination can only be done with extremely well-trained operations and maintenance personnel."
The men and women of Joint STARS logged more than 80,000 combat hours in support of Operations Enduring Freedom, Iraqi Freedom, New Dawn, Odyssey Dawn and Unified Protector, in preparation for November's broad mission set.
"As Team JSTARS continues to excel, combatant commanders around the globe have taken notice and recognized the value of the weapons platform." Worley said. "With budget constraints being felt throughout the military, the Air Force's premier command and control, intelligence, surveillance and reconnaissance asset is being called more often to more locations because we give American taxpayers more bang for the buck."
While maintaining an aging fleet of 16 Boeing 707-300 aircraft, the JSTARS team comprised of Airmen and Soldiers are poised to continue providing a ready and relevant military force to combatant commanders around the globe.
"Our maintainers from 116th and 461st Maintenance Groups have a tremendous sense of pride, dedication, and commitment, which I've witnessed time and time again," said Col. Mike Gaspar, 116th Maintenance Group commander. "The successes of Team JSTARS are a direct result of those men and women ensuring we launch every tasked mission."