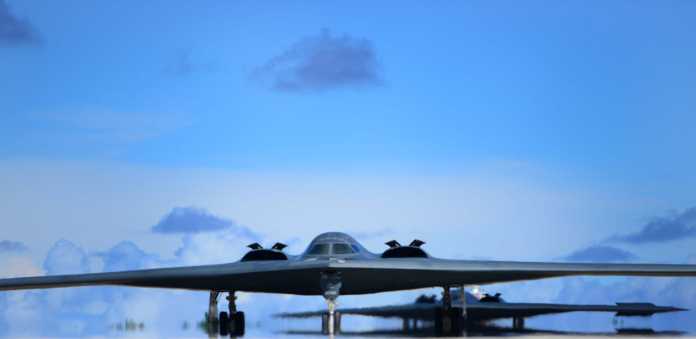 Three B-2 Spirits recently returned to Whiteman Air Force Base, Missouri, following a three-week deployment to Andersen AFB, Guam, where they conducted joint, integrated operations with various U.S. military assets and completed long-range training with Australian partners.
This deployment was designed to ensure bomber crews maintain a high state of readiness and crew proficiency, and it provided opportunities to integrate capabilities with key partners in the Indo-Asia-Pacific region.
During the deployment, the bombers conducted missions throughout the Indo-Asia-Pacific region to include sorties in the vicinity of Australia, where they integrated with the Australian Air Operations Center and Australian Joint Terminal Attack Controllers.
"The B-2's nearly 7,000 mile, unrefueled range allows us to seamlessly integrate with our Australian counterparts on the tactical and operational levels, demonstrating the ability to deter adversaries and defend our allies and partners," said Brig. Gen. Dirk Smith, Pacific Air Forces Director of Air and Cyberspace Operations. "Each time we take part in combined exercises, we not only verify our operational capabilities but also enhance our strong alliance."
Additionally, the B-2s conducted an integrated exercise with U.S. Navy forces and Hawaii Air National Guard F-22A Raptors near Oahu. Throughout their deployment, the B-2s took part in integrated training missions with B-1B Lancers currently deployed to Andersen AFB in support of U.S. Pacific Command's Continuous Bomber Presence mission.
"The low-observable characteristics of the B-2 give it the ability to penetrate an enemy's most sophisticated defenses and threaten heavily defended targets while avoiding adversary detection, tracking and engagement," said Gen. Terrence O'Shaughnessy, Pacific Air Forces commander.
"The global reach and power projection capabilities provided by Air Mobility Command and Air Force Global Strike Command showcase our nation's ability to hold any target at risk, regardless of distance, within hours, as recently demonstrated with the devastatingly successful strike by B-2s launched from Missouri against a terrorist training camp in Libya."
The training missions allowed U.S. aircrews to familiarize themselves with airbases and airspace across the region and the operational conditions that characterize the U.S. Pacific Command theater.
"The Indo-Asia-Pacific spans more than 50 percent of the Earth's surface, which creates significant operational challenges in terms of projecting power over vast distances," said O'Shaughnessy. "With the indispensable support of our partners at AMC and AFGSC, combined with premier fifth generation fighters and highly capable assets from across the joint team, we are consistently able to demonstrate through training missions like this B-2 deployment that our joint force is prepared to fight tonight and rapidly project power at a time and place of our choosing in order to safeguard the stability of the Indo-Asia-Pacific region."
U.S. Strategic Command forces regularly test and evaluate the readiness and flexibility of strategic assets to ensure the U.S. military is able to honor long-standing security commitments and support global security.